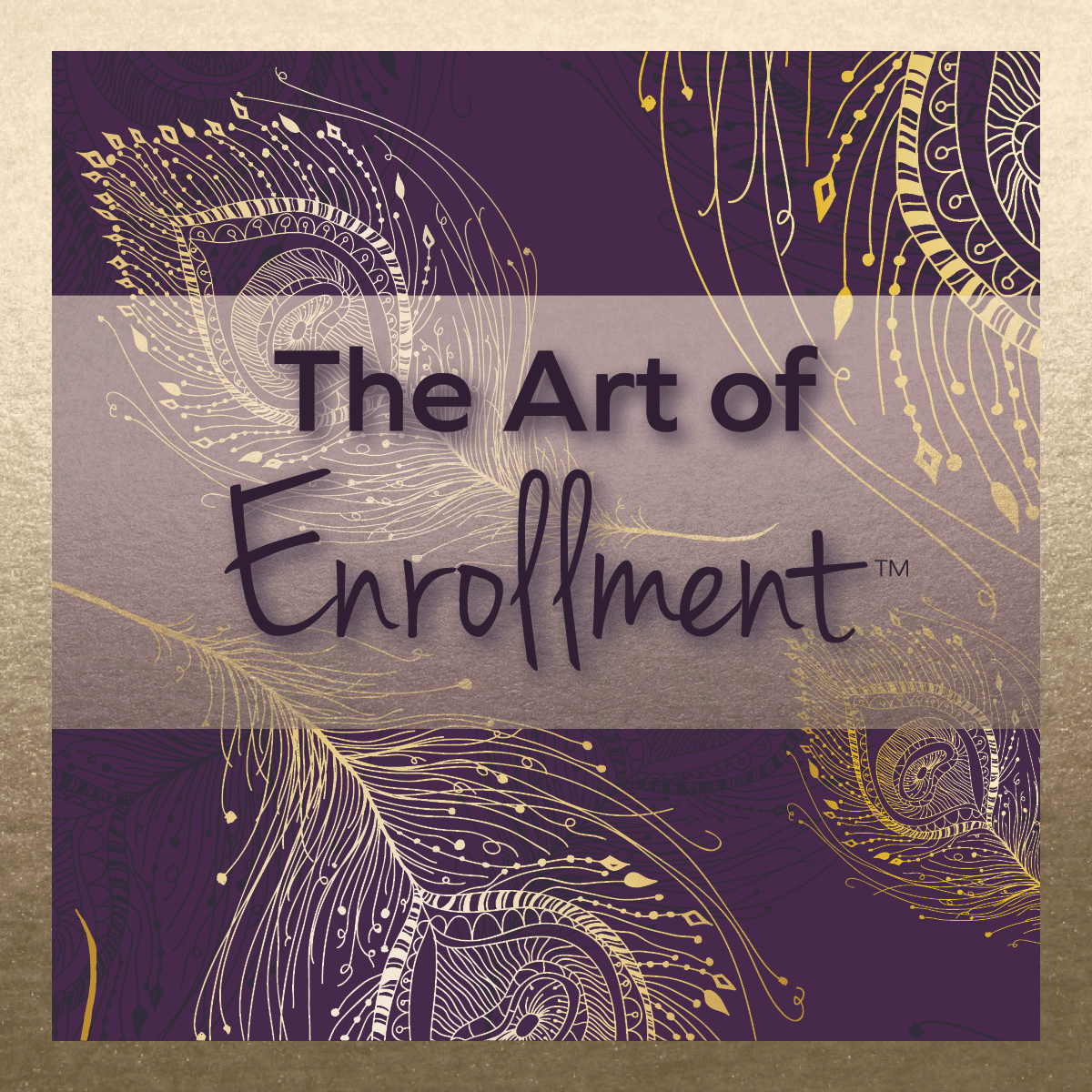 If selling is "serving," then why is it so uncomfortable for many transformational entrepreneurs?
After teaching hundreds of people about their marketing archetype, it's time for the next step: How to

sell

in your archetype, so it doesn't feel slimy.
The really cool part is once you are marketing yourself in alignment, the sale comes more naturally.
Once you get out of your own way, it's like magic. The right people show up. The sale is easy. You'll wonder how you ever did it any other way.
But as Soulpreneurs, we still have to ask for the sale instead of trying to meditate our way to money, which a lot of people attempt to do in one way or another.
There are four keys to the sale:
Energy + Strategy + The Conversation + Follow Through
Energy: This is where your money beliefs show up big time (and same with your prospects.) When you work with the energy and not just strategy, you'll rewire your ability to succeed.
Strategy: There are many ways to get clients and you'll learn your most effective ways to attract and receive ideal paying clients.
Conversation: What do you say? What do you say if they aren't the right fit? You'll create your own script for your conversations that you can use until it becomes second nature.
Follow Through: There are steps to take for each person who says no, and for each person who says yes. Make sure you follow through to actually get the sale.
The Art of Enrollment™ is teaching you all of these keys so you can start making more money without feeling like a fraud or like you have to sell your soul just to close the deal.
Here is what this program is NOT:
1. A magic pill that will put money in your bank account overnight.
2. A script to follow so you can avoid thinking for yourself or avoid discomfort in asking for the sale.
3. Mindset work that overrides action that's necessary to grow your business.
Who is this for?
Soulpreneurs who do things differently. You may either find yourself completely frozen and avoiding sales altogether, or you are doing what the gurus say but it's either not working or you are enrolling clients who are completely exhausting.
If you can relate to any of that, then it's time to learn The Art of Enrollment™ and let go of traditional hard sales.
Here is what this program IS:
Training on how to have the actual enrollment conversation with people so you get more and more comfortable with sales until it's as easy as breathing! Just like any tool, when you use it, it works.
What you need to know and implement before, during and after the conversation. It's not just about the actual sales conversation, but so much more and I've got you covered!
Marketing tools that will attract ideal prospects so you don't have to focus on overcoming objections
Tools to get out of your head and into aligned action that actually grow your business
Money clearings so you expand your ability to receive. So often, people complicate sales because what's really going on is their discomfort of receiving. What if this all could be WAY easier?
Bonus clearings to clear out energetic blocks and old patterns that are keeping you in your own way.
Three top problems. Three solutions.
Easy peasy…
Problem #1: You feel like a fraud.
The top thing I hear from Soulpreneurs is they feel like a fraud when they are selling. Why?
Reason #1: They aren't as successful as they would like, so how can they help other people?
Everyone starts somewhere, and this means you too. This means you have to start somewhere too and there is a way to do it, while being completely genuine, authentic AND confident.
Reason #2: You doubt your ability or your pricing.
Alignment with your pricing is not going to come from "fake it 'til you make it." A deep resonance with your pricing can happen, and deep resonance typically means getting stretched outside of your comfort zone.
What's possible: You are clear and confident in what you are offering, how you market yourself and when you talk with people about your services.
Problem #2: You're great at what you do, but you hate the sales and marketing part (and no one is buying).
So you end up doing things to make money that you don't really love to do.
You may be supporting other people in their businesses, when you are really meant to shine on your own platform.
All things like this are coping mechanisms to be "busy" and avoid selling. What if selling was easy?
Marketing and sales is part of the game, but doing it doesn't have to be hard or painful. Marketing in alignment comes first then the sales part is easier. And with practice, it becomes second nature.
What's possible: building YOUR business, not someone else's and creating sustainable success because you aren't burned out or resentful of hustling just to "make it happen."
Problem #3: You know that sales and marketing are part of business, but it feels slimy.
Chances are, you've been taught sales scripts that are focused on overcoming objections and calling people out if they aren't ready to mortgage their house, put it all on a credit card or another drastic measure.
You've likely been taught to sell for your reasons instead of enrolling the person for THEIR vision. This one distinction is the biggest factor that will eradicate that slimy feeling when you talk to potential clients. Instead, you will see how you are enrolling the client in their vision and you have the sacred role of being a part of their transformation. It's an entirely different ballgame.
What's Possible: Enrolling clients is nothing like hard selling. You just won't do that old-school sales anymore. You'll do it your way.
Bonus #1: How To Sell From Stage
How to sell when on stage or hosting an event without the hype or pushy sales tactics that attract the wrong buyers or repel them completely. There is a reason I close and retain 20%-40% of sales into 5-figure programs from my events, when the industry standard is typically less than 18%.
 Bonus #2: Clearing tools to heal and release old blocks ($497 value)
Using Access Consciousness® Tools, after each training, you will receive quick clearings work with the abundant energy you desire instead of old energy that no longer serves you. Each bonus is customized to the questions you ask and will be available within 48 hours after each training. 
Plus, you get 24/7 access to all recordings, handouts, and checklists.
Module 1:
What are you actually selling?
You'll get clear on your message and offers so you are clear in your conversations. Clarity sells!
You'll discover your Soul Message Archetype™ and how to create a marketing message that engages your ideal market. Plus, you'll review your products, programs and pricing to make sure they're in alignment with who you are.
Includes: Message template + Discover your Soul Message Archetype™ with eguide.
Module 2:
Marketing Magic & Archetypes
Sales without marketing will only get you so far. You'll discover your marketing archetype and strategies that work so you get in front of the right people.
Includes: Marketing Archetype eguide + Marketing strategies that work for each archetype.
Module 3:
Now We Can Talk
This is where you start to script the actual conversation for your sales. You'll start with a basic script and a template so you can create your own.
Includes: Art of Enrollment™ Conversation Flowchart + Brief conversation script + Template to create your own script that's authentically YOU.
Module 4:
Overcoming Objections (yours and theirs)
How do you avoid the trap of "convincing" people, yet overcome common hurdles and excuses without being attached? In this training, you'll learn how to navigate this process and enroll people who are truly ready to receive what you have, instead of overcoming objections to the point of enrolling the wrong people, which is very common in the traditional sales process.
Includes: Top objections with questions you can ask so the prospect has breakthroughs and you feel confident in the conversation the entire time!
Module 5:
Get Prepped and Get Leads
Lead generation. We hear this phrase, but how do you actually get paying clients? In this module, you'll learn how do you get quality leads for your marketing archetype and industry, plus what to have prepared when people say yes or no.
Additionally, have you had someone say "yes" to working with you, only they join the witness protection program and they disappear? There were likely warning signs that was going to happen or you didn't follow through with the sale to actually enroll the person as a client. You'll learn the specific steps you take with each person to hold the sale and make sure it sticks.
Includes: Checklist of what to do before, during and after your enrollment conversations + Checklist for new client intake process + Examples of applications for strategy sessions + Contract sample + Payment gateway resources.
Module 6:
The Art of Receiving
A common reason people sabotage or complicate their sales, is they are uncomfortable actually receiving money. In this module, we'll take a deep dive on any of those old patterns that are hanging around in your money and activate new energy to get out of your own way and open your money channels.
Includes: Bonus training on how to heal your money story + Money Mojo Checklist
Bring any question about marketing, messaging, business, money, mindset or sales (or anything in between)
If I don't register while this course is being taught live, will I still get everything?
The only thing you won't get is the opportunity to ask your questions live on the Q & A call. But you'll get everything else, including 24/7 access to the Q & A call recording, all modules, all bonuses, and all handouts. If Ignite has already passed, you will get your ticket to the next year.
What if this doesn't work?
The only way it won't "work" is if you don't take action on what you learn. I do my part and give you everything I've got, you do your part. It's a win/win.
I'm brand new to my business, is this program for me?
This course is applicable to all stages of business. You can be a newbie, or experienced, if you are stuck with your sales, this will help.
How soon will I start to make money using what you teach me?
That's entirely up to you. Assuming that you have a core marketing message, solid offers, and you actually take action, it could be within a few hours.
Any other questions? Email my team here.
With the nature of this program and you getting access to so many resources and materials upon purchasing, there are no refunds or transfers. If you utilize the program and resources, you will create results.