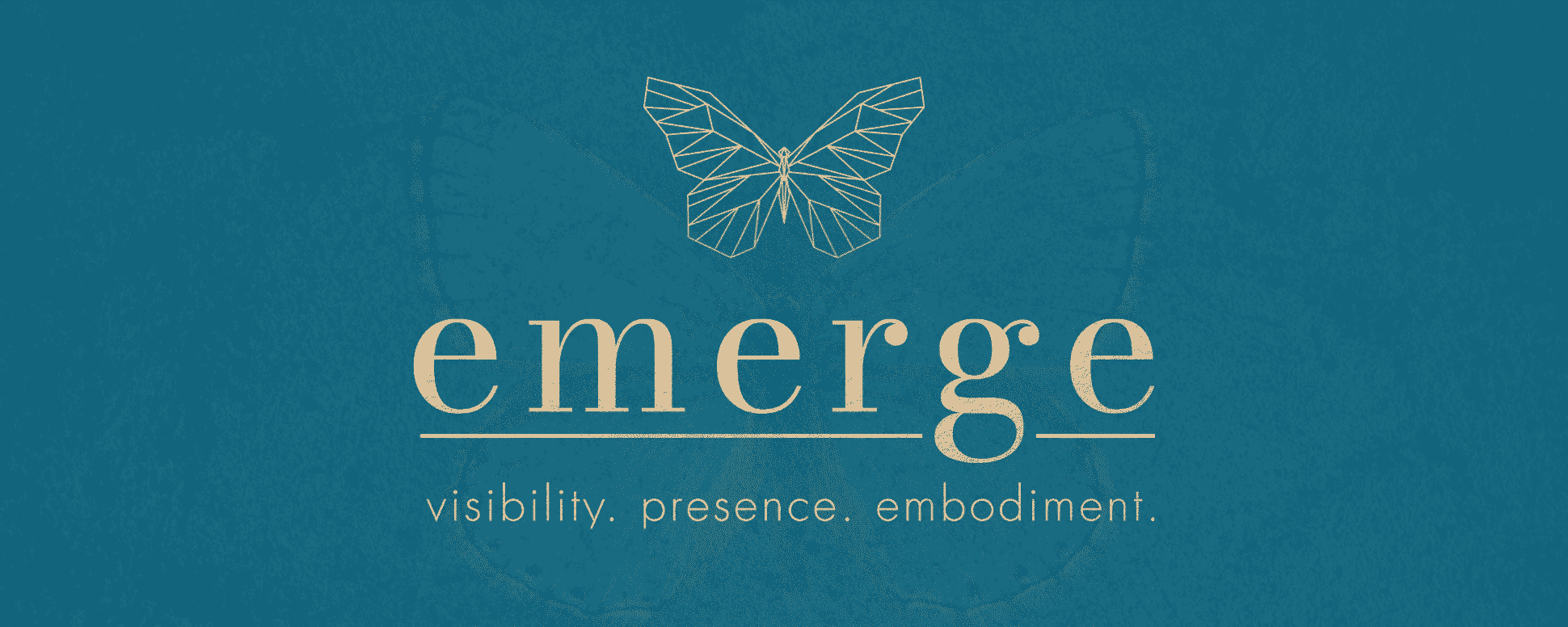 What could you create in your life and business when:
⇒

Your marketing and content comes from a place of confidence and self-trust?
⇒

You have radical honesty about what you want and trust yourself to get it?
⇒

You feel safe to be seen?
Welcome to Emerge — the place to create a sustainable business and expand your visibility while you create change in the world.
As an entrepreneur, you know that visibility is essential for your marketing and to grow your business so why do you get stuck?
Here's what I commonly hear from really brilliant people (maybe you can relate):
What do I talk about? I tend to overcomplicate things.
How do I create the video, newsletter, social media posts, podcast...? It's a lot!
I create it but then I don't share it. I get too busy or I get overwhelmed.
It's just too scary to put myself out there like that.
I get stuck in perfectionisim.
I kinda hate social media. Do I have to do it to grow my business?
I love the creating part. When it comes to actually marketing it? Ugh!
I should be farther along by now. What is my problem?
I'm exhausted. Maybe I don't have what it takes to really do this.
The Fake Solution:
(what's not going to work despite your best efforts)
Pushing through another formula or learning the latest trend in a mad attempt to "fix it"

Over-investing in a high-end mastermind because "this time will be different."

Telling yourself you're finally going to implement all of the free stuff and courses you have access to.

Beating yourself up and being determined to "crush it" while judging yourself for "lack of motivation."
If you:
Have not been as consistent as you would like

Are bored with the same ol' formulas in business (or even bored with your business)

Have lost a little of that spark you have for your work

Aren't sure how to say what you want to say

Are burned out…
What if there's nothing wrong? You're not wrong. You're not doing it wrong.
There's Another Way…
Rather than cranking out marketing like a machine
(hello capitalism)
or figuring out the latest algorithms and trends, what if you shared your unique message from a place of embodied power and presence?
You're at the brink of going for it
– but in a way that's nourishing and kind to yourself.
Let's do it together.
Welcome to Emerge. 
Emerge is a 4-month small-group program that includes private coaching where you amplify your message, increase your visibility, and simplify your marketing while you nurture your nervous system, support your mental health, and make money doing the work you love to do.
You will generate your best ideas and build habits to support you to share your content more regularly in a way that's authentic to you.
You'll focus on visibility, creating and sharing content, and taking aligned and inspired action on your simple and unique marketing plan.
This program is designed for you to:
Practice visibility, embodiment, and presence that's nurturing to you so it becomes easier and easier

More consistently create your content marketing but without the formulas, algorithms, or pressure to "perform"

Develop your unique voice

Increase your visibility in a way that's sustainable and supports your nervous system

Hone your unique voice and message

Simplify your process of creating and sharing content

Naturally improve your confidence and self-trust (my philosophy is you can't have lasting confidence without building your self-trust)

Be more comfortable with being seen as the expert you are

Reach the right people instead of the pressure of "growing your audience"

And you'll do this in a community that honors your human-ness and sees your brilliance
How it Works:
*Each cohort is limited to 10 participants.
Private Coaching
You receive two private 60-minute coaching sessions to work on their offers, pricing, messaging, and marketing (or anything else you need). These coaching calls can be used anytime during the four months and I recommend using one at the beginning and one mid-way through the program.
Content Mapping & Marketing Planning
You'll walk away from this content mastermind with hands-on workshop time with your content theme for the month mapped out, clear calls-to-action, and a simple plan to reach your monthly goals.
Training & Laser Group Coaching
Every month, there is a training specific to what the group's goals along with laser group coaching so you can get the support you need to move forward.
You'll expand your learning, connect with your peers, and receive support.
Live Workshops
January 19: Messaging and Copywriting Without Using Pain Points
March 16: Writing Emails That are Life-Giving Instead of Soul-Sucking
June 8: Simple Sales Pages That Work (And Don't Make You Cringe or Cry)
These are 3-hour hands-on workshops with lots of breaks so you're not just staring at a screen the whole time – it's where you actually get stuff done.
See the schedule below for times.
Templates and Checklists
Having templates handly to model after and adjust to fit you saves you time and energy. You'll receive me templates and checklists for:
Simple sales pages that work
Email sequences that create engagement
Simple flow for engaging videos and audios
How to pitch yourself as a speaker to an event or podcast
Money Magic checklist to get your money handled and increase your cash flow
Business Basics checklist
Delegation checklist
And more…
Community
Practicing visibility in a community that is set up to witness your brilliance and cheer you on is transformational. Our community will come from our live calls so I highly encourage you to attend them live. This is a wonderful way to nurture relationships for cross-promotion, referrals, and collaborations.
Full transparency: I won't be hosting an online community for this program I deeply dislike Facebook groups (running them and participating in them), Mighty Networks, and other online community platforms.
Bonus #1: Intuitive Marketing Method™ Course ($500 value)
Full access to my Intuitive Marketing Method™ course ($500 value)
You'll learn my simple and effective framework for your marketing so you not only spot the red flags as a consumer and make different choices, you'll learn how to sell your products and services in a way that is generative for every individual.
While Emerge is a 4-month immersion, you get lifetime access to the Intuitive Marketing Method™ course.
Bonus #2: WORD ($500 value)
WORD is the course that teaches you how to craft your authentic core message and share it powerfully. This course is the perfect compliment to the Intuitive Marketing Method™ course. 
Included in the course are four live Q&A calls that you can practice your messsage and get feedback in a safe place before you take out into the world. 
While Emerge is a 4-month immersion, you get lifetime access to WORD.
Over four months, you'll explore:
Visibility: Are you discoverable? Can people who are looking for you find you? When people do find you, is your unique magic clear and engaging?
Embodiment: If you've done a great job of being in your head and you love visioning and planning, but not so great at the follow-through, the antidote is to get in your body. Simple tools to nurture your nervous system will guide your visibility in a way that will stretch you out of your comfort zone without activating your fight or flight response.
Presence: What if instead of focusing on "consistency," you allowed yourself to be fully present. Without shrinking or hiding, but to be fully present in a way that feels nurturing?
You have a message to share in a way that only you can share it. It's a message that changes lives, which is how we change the world.
The next cohort kicks off toward the end of March 2022.
To be notified when registration opens, add your name to the waitlist below:
Emerge is for Entrepreneurs Who:
Are at least three years old in business and making some amount of money.


(this isn't for brand new business owners or people who haven't yet sold their services or products)

Understand and are willing to explore how privilege, trauma, and oppression impact people's lived experiences, including your own.

Are committed to breaking down systems of oppression, including White Supremacy and patriarchy.

Offer services including coaching, consulting, workshops, retreats, etc. You can have physical products as an income stream but it's not your core business model.

Are coachable and open to using your intuition. You're spiritual in your own way while still being grounded and practical.

Are excited about doing things differently and bringing all of who you are to yourbusiness.

Are done hiding your gifts and are willing to be radically honest about what you really want (and what you don't want)

Are willing to let things flow rather than force things to happen (you may not even have any energy for pushing for the sake of pushing anymore)

Like being in a community of amazing people doing incredible work who are also messy humans sometimes. 

Are willing to show up as you are and get out of your old patterns while nurturing your body and nervous system. 

Are willing to get uncomfortable because you know there is a difference between healthy discomfort and unhealthy misalignment.

Looking forward to being more consistent in your marketing.

Excited (and perhaps nervous) about expanding your visibility, reaching more people, and growing your business in ways that work for you.
The Investment:
Emerge is $2,500  or four payments of $625.
Hi, I'm Angella Johnson, your Emerge guide and vision keeper.
The first thing you should know is there is a high chance you will see pictures of my dog. Because I've turned into the person I swore I'd never be: the person who takes selfies with her dog.
Now that we got that out of the way, here's how I got started in business: I got fired in 2008.
This was just as the housing market in the US was crashing and I went on to build a 6-figure business during a recession.
I got sucked into the world of the big-name coaches and toxic marketing. I gave my power away and knew I couldn't do it anymore so I burned down my business in 2014 and rebuilt it with my intuition and soulful approach in the forefront. 
I've hosted over 100 live events ranging from 5 to 600 attendees. I love gathering in person and can't wait until we can do so again.
I'm a blend of a coach, consultant, and mentor. I ask great questions and despise unsolicited advice.
I started doing art again in 2017 and believe that full self-expression includes doing things you love that are NOT connected to business or making money. 
The truth I've learned the hard way is this:
You can't override intuition with strategy.
You can't override strategy with intuition.

No one knows our answers but you.

You're not broken or flawed. 
Self-trust is the catalyst for magic to happen in your business. 
You weren't born to fit into a formula. The same thing goes for business and marketing.
Welcome to doing business differently.