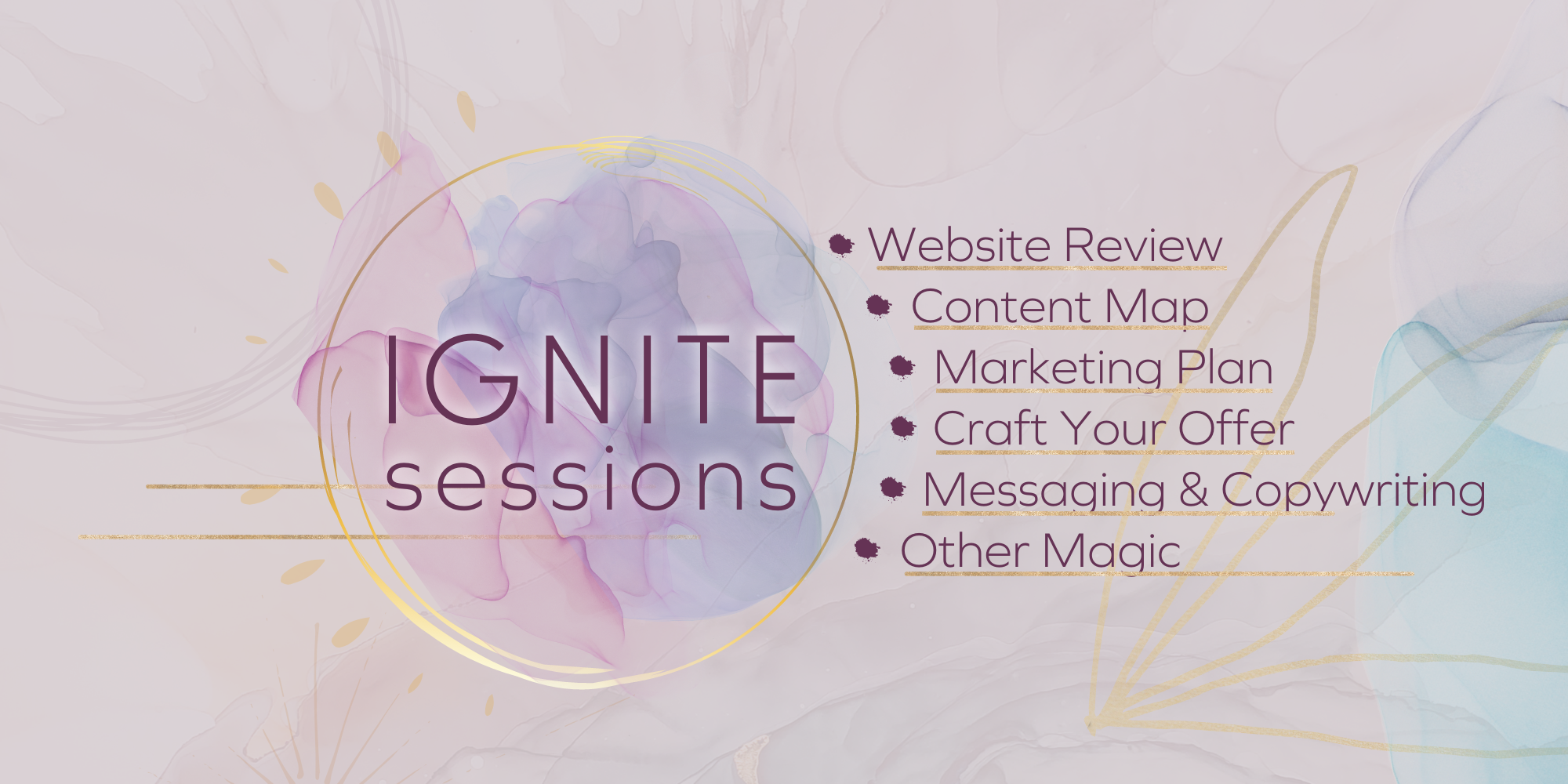 Sometimes you don't need a long-term coaching package and a basic single coaching session doesn't go deep enough.
Ignite sessions are 1:1 deep-dive sessions geared to solve one specific thing in your business so you can move forward quickly with the most urgent things you want to solve in your business.
Book It
Book your session below and then you'll receive a confirmation email where you'll have a scheduling link.
Each session is 60 minutes.
Prep Work
We go fast and deep in these 60-minute sessions. How? We're both prepared and clear before we even meet.
In your confirmation email, you receive prep work that you complete and send to me in advance of your session.
I review everything and do my homework before we meet.
(Plan on 30-60 minutes to complete your prep work.)
We Meet
During your session is where the magic happens.
We meet over Zoom and we dive in. The session is recorded and provided to you after we meet.
Because we both show up clear and prepared, we cover a lot of ground in just one session.
But we're not done after this session, there's one more step to support you.
*If you choose the Website Review for your session, this works a little differently. See the details below.
Follow Up
After your session, I recap what we covered, including your next steps, in an email. Included in the email is your recording, too. 
Since every session is different, you'll receive what's geared toward your specific session. 
Examples of what I've provided in the follow-up:
Copy for a sales page
Six months of content topics
Illustration of a pipeline
Marketing plans
Business model adjustments
Detailed website review of 5 pages
Checklist of next steps to launch a program
and more…
This recap is sent within 48 business hours after your session (usually sent within 24 hours).
What topics can we cover?
The Details
Website Review: 
I provide a screenshot video of up to five pages on your site to provide feedback through four lenses:
1. Energetic: how does the page feel and does a person's energy stay on the page?
2. Messaging and Copy: are you communicating what you want to be communicating in a way that's authentic and compelling?
3. Layout and design: are the colors, images, formatting, spacing, and visual elements all on point and contributing to the message you want to be communicating?
4. Strategy: does the page do what you want it to do? Is there a clear Call-to-action?
After I send you my review, we then meet for 30 minutes for any questions you have.
Pre-requisite: You have a working website with at least three pages.
The Details
Content Mapping Session:
After understanding what your core offers are and how they help clients, we outline content topics that lead clients to your offers using the power of your brilliant content.
I ask you powerful questions and capture the brilliance that comes out of your mouth. (trust me, with the right questions you unleash pure gold!) We then turn that into content topics for the next 3-12 months.
This includes specific content to share through newsletters, social media, videos, audios, and visual graphics.
Typically clients walk away with topics for six months of what to share to create engagement and magnetic sales without always having to overtly sell.
You walk away with your content map that supports your offers and no more writer's block or creating content that doesn't lead to sales.
The Details
Craft Your Offer:
Not sure how to put your offer together in a way that's joyful, profitable, and effective?
In this session, we craft your next offer, including aligned pricing, that has you want to buy your own stuff.
Pre-requisite: You know who your ideal client is and the general scope of how you serve them. You have sold offers before.
The Details
Marketing Plan Session:
Creating a 1-page marketing plan that works is easy if you have the right framework.
In this session, we map out your simple marketing plan with immediate next steps and timelines so you can take action and sell your offers more consistently.
Pre-requisite: You must have an offer that you've already sold at least once and be clear on your audience and selling points.
The Details
Messaging/Copywriting Session:
Not sure how to say what you do? Stuck on messaging for a specific project like a page on your website, your bio, or something else?
This session can be used to work through messaging or co-write copy that needs to be done in your business. This includes things like updating a page on your website, writing your bio, and more.
The Details
Sometimes you need a little bit of this and a little bit of that, but you need some focused time to really move that dial and gain clarity and create a plan of action for aligned momentum.
Do you need an hour to ask questions, get a clear picture of what's next in your business? An hour with me could be just the support you need.
The result?
You save months of time trying to figure it out on your own.
You save thousands of dollars by getting what you need without a long-term coaching package.
You get clear on the exact next steps you need.
You boost your clarity and confidence in your business.
Can I say Wow!!! In the time we spent together I felt seen and heard. Unlike with previous mentors, there wasn't a rush, nor a push to make things happen.  I left our session with a deeper sense of Clarity. Ease. and Joy.
And the detailed notes. They are priceless. You even made a graphic. Wowza.
Thank you for the time and care spent.
The Investment:
Ignite Sessions are $500 USD.
Ignite sessions are limited to 3-5 per month.
If you go to book a session and there is no availability, reach out to [email protected] to be added to a waitlist.
Questions? Email [email protected]
I have a clearer idea of what I offer, clear words, lots of resources, and next steps on my social media, website, and my offers.
I feel more confident and my level of anxiety about money has decreased. I appreciated the pre-work and what I received afterward. There is so much valuable information and I can move forward.
I absolutely would recommend this type of session. We were able to really dive right in and get really good work done.