Create profitable and transformational events and retreats with ease.
As a transformational entrepreneur who's hosting your own live event, workshop, or retreat, you're ready to learn:
1. Exactly how to fill a room with your ideal clients while also charging what feels right for your event.
2. The art of sharing valuable content across multiple days and fully trusting that what you have to say and teach is important.
3. How to make an offer that makes a profit without sounding sleazy or awkward.
4. The logistical side of things so you can either do it yourself with confidence or hand it off to a team member.
"Attending and speaking at Ignite with Angella was an amazing and life-changing experience. The event was professionally run and all of the staff were there for YOU. I have never felt so nurtured in such a large group of people. The timing of the speakers, breaks, group work and connections was perfect. Angella is brilliant at creating well run, nurturing and fun events."
Glenyce Hughes

(Canada, New Zealand, and Australis register here to receive a 20% discount to accommodate your exchange rate.)
Looking for more support with your live events that includes some private time with me?
Check out the full Transform Events program here.
People are looking for three things in live events
(which is why YOUR event is a breath of fresh air):
Real Content
Not just fluff and not just a fill in the blank workbook they have to fit in their luggage to get home. And not content they can Google for free or they've heard at other events. (And you DO have unique content to share, I promise!)
Lasting Transformation
Not just the temporary event high that doesn't last. while you can't control how your attendees will implement anything you teach them, you can create a space of transformation that's beyond surface-level excitement.
Community and Connection
As the coaching and personal development world have caught the online marketing trends (rightfully so), the pendulum is swinging back to seek real connection and community to complement the information people are gaining online.
This is where YOUR work in the world meets the desires of attendees
— it's a match made in heaven.
People can't find your event if you're thinking about hosting one, someday… when the time is right, or when you have something more to say, or when you build up your email list…

(Canada, New Zealand, and Australis register here to receive a 20% discount to accommodate your exchange rate.)
Looking for more support with your live events that includes some private time with me?
Check out the full Transform Events program here.
Can I help you make your event vision a reality?
This is for entrepreneurs who:
Know that their transformational work is best delivered in person.
Want to be paid to travel the world while facilitating their work.
Have hosted events, workshops, or retreats and haven't made a profit and would like to turn that around.
Love the idea of events and would to take out the overwhelm and uncertainty of how to do do it with ease.
Are willing to get out of their comfort zone and share their magic in new ways.
Are excited to leave their event refreshed, energized, and profitable rather than drained and worried.
This is NOT for you if you are:
Looking for the magic sauce to get butts in seats and sell to them for three days to make a profit.
Not willing to profit from your transformational work.
Want to avoid looking at your profitability and the logistics.
Eager to bulldoze your way to profits without looking at your energy and the energy of the event.
Event Magic is a 6-week live course that gives you the basics and gives you the antidote to the top three fears of filling the room, creating captivating content, and making sure your event is profitable.

Event Magic is a 6-week live course and includes:
Instant-Access trainings delivered to you right away:
The 4 Event Types + What's a Truth Guide Event?

The 3x3 Event Model so you know what your event entails so you start out organized

Guided audio to connect with the consciousness of your event and start co-creating with it right away. (coming February 26)
Kick-off Bonus: Mastering the Mindset of a Profitable Event Host
With all of the strategy and logistics in the world, if you don't look at your mindset as an event host to show up powerfully, confidently, the common fears of filling the room and making a profit will sabotage all of your hard work.
Mindset Training #1: Owning your expertise and spotlight
Mindset Training #2: Showing up powerfully and magnetizing your ideal clients
The live course starts on March 22 (recordings available for lifetime access):
Week #1: Create Your Event Vision
This is the foundation of your event and includes the details of venue, event theme, # of attendees, event type, and more.
Week #2: Content Strategy
What content are you delivering? Using my proprietary system, you'll start with your offers and create your content from there to create your "content that sells without selling." This strategy organically leads the right people to work with you.
Bonus: a recorded video that walks you through my proprietary process step-by-step so you can do this for every event you have.)
Week #3 Marketing Strategy: Butts in seats vs filling the room with the right people
How to you fill your event with the right people? You'll learn the blend of energy and magic to fill the room and effective strategies to market your event.
Bonus: Over a dozen short videos (2-5 minutes each) on each marketing strategy you can use to fill your event.)
Week #4: Profit Strategy: Ways to make money at your event + 6 ways to make an authentic offer as a Transformational Entrepreneur
You'll learn the various ways to make money, plus the six different ways you can make offers at your event without doing hype-filled pitch. We'll cover everything from event sponsors, ticket pricing strategies, selling products and merchandise, and much more. d
Bonus: Detailed PDF offer guide to sell from any stage without the manipulative salesy tactics.
Week #5: Create Your Live Event Map
This is where we put your content, marketing, and profit strategies together with your event vision to craft your event, workshop, or retreat. This map will be your guide through your process all the way to completion of your event to ensure that your vision is consistent, clear, organized, and profitable.
This is your unique event plan on paper so you can execute it well and fill your event.
Bonus: Your Live Event Map PDF to fill in for any event you host, including virtual events so they are marketable, clear, and deliver the transformation you desire.
Week #6: Q&A call bonus
This is where you can ask me anything!
Bonus: Private Facebook group to ask me anything. The group will be archived after the live course is complete.
Investment is $297 through February 20th and goes up to $397.

(Canada, New Zealand, and Australis register here to receive a 20% discount to accommodate your exchange rate.)
"Angella creates an incredible container for the events she creates.
It's more than just about the content- which is always generously given without the constant sale-a-thon feel- it's about being in the safest and most supportive space I've ever known to do what is necessary for TRUE transformation- be real, be vulnerable and catch the vision of your true capacity and potential.
I've attended many, many events from 7-figure coaches to rooms with 20 people. Her events are the only events that have brought lasting change instead of the usual event high that inevitably leads to the post-event crash.
Her content is timely and real, giving you actionable steps to create big change. Her engagement and connection is sincere.
Her knowledge and expertise exceptional and generously shared."
Paula Mosier
Whether you register for Event Magic or my full Transform Events course, I focus on busting these common fears people have when hosting their own event:
1. Marketing: As a transformational entrepreneur, it's likely that one of your weak areas (hey, we've all got 'em) is undercharging or giving SO much value but not getting paid for it.We take care of that in this program. You'll learn how to market yourself and price your events so you attract the people ready to truly change and that compensates you. My goal with everyone who takes my program is that they are profitable before they make any sales from their event.
2. Content that sells without selling. You've got a lot you can teach, even if you don't see it now. When I walk you through my proprietary process of crafting your event offers and content from those offers, you'll actually have more than enough content to fill your event, whether it's a 2-hour taste test, a full-day workshop or a multi-day event or retreat.
3. Profit Strategies: If the thought of doing the official "pitch" at your event just feels plain gross to you or it just doesn't resonate, there are six ways you can make an offer at an event and one of them is the official pitch that you've likely seen at events. Do you have sponsors? Do you have other speakers? If so, what speaker model works best for you? You'll walk through all of the ways to make money, plus you'll learn how to make an official offer from any stage and do it totally authentic without the fear-based sales pitch.
"If you know live events are what you'd like to create, and you want to save time, money and heartache AND get the right people in the room, get yourself to Angella's events trainings. She can help you create more ease in hitting your targets with less hassle! Clear, actionable and inspiring information!" 
Cory Michelle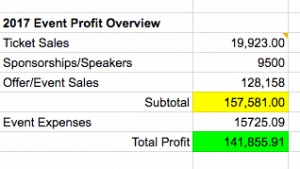 "When I first started working with Angella, I revealed to her that I had a dream of hosting my own event. But I was scared! I knew that they were a lot of work, involved lots of team members and planning to pull off effectively, and could be costly if not handled with care and attention. She assured me that I could definitely host a profitable event and truly position myself as a Thought Leader within my community—and have a lot of fun in the process.
So, we got to work! We met for about six months prior to the event to first talk about the event promise and the overall event vibe. It was important to me that my event was 100% on brand for me—lots of interactive pieces, lots of hands-on activities, and lots of big paper, markers, and sticky notes so that people could implement story marketing right on location. In addition to the feel, it was important that I also made a profit from this event. I had heard nightmares of entrepreneurs going into 10s of 1000s of dollars in debt for events. I refused to be one of those stats.
Angella provided me with so much wisdom and insight into the event process, from a Truth Guide perspective. She helped me lay out my content plan so that everything we did supported the offer I made. She helped me calm down when I started freaking out about a plethora of things—assuring me that selling tickets and securing sponsors and follow-up after the event were all part of our original strategy and necessary for the overall success of the event. She helped me tap into the event energetics and understand how to read the energy in the room and adjust things as the event progressed, so that everyone was able to receive the goodness that took place over those three days!
In the end, I couldn't have asked for a better Event Consultant to have on my side. I was 7 tickets short of a sell out, the content and offer worked very well together, and I had a ton of fun with my community. One month after the event, people are still raving about it and they want to know how to get tickets for next year. And, I am going to be open and transparent about my numbers: My event profit, after everything was paid for and accounted for, was $141k. I am one happy entrepreneur and I can't wait to host another event next year!"
M. Shannon Hernandez
transform lives. profit. be you.
The Event Magic course starts on March 22; you can join anytime and will get the recordings.
All classes are live and on Zoom. You get 24/7 access to all recordings and bonuses.

(Canada, New Zealand, and Australis register here to receive a 20% discount to accommodate your exchange rate.)
If you are looking for a deeper dive with some private help for your larger 50+ attendees, my full Transform Events program + a private session with me is going to be a better fit for you. Contact me here to schedule that time: team@angellajohnson.com.
"Have you ever attended an event and felt like things were just sort of off, somehow. Likely the event planner didn't pay attention to how the energy of the event flows. That's a critical piece most planners miss and while the event might be full of content and fun, the lasting effect isn't one of true transformation.
Angella Johnson gets energy and she gets the logistics of hosting events. She creates events that allow flow and space for the participants to take in the information and turn that into action.
I've worked with Angella behind the scenes on many events and can't imagine hosting one without her knowledge and guidance. She sees things no one else does, she feels into the energy and knows in a second how to adjust. (It's that flow thing. She's got it down.)
For an event to create lasting transformation and for the host to create a solid income from it, look no further than Angella Johnson. She's the master."
Lisa Mahon Wechtenhiser
Hi, I'm Angella Johnson, a master of live events and here's why I'm inviting you to create your events to be different:
After getting fired in 2008, I took that as a sign to do what I secretly wanted to do for years: host transformational women's conferences.
Fast forward to February 2009 and I was in the room with over 200 attendees at my first transformational women's conference with a big-name keynote speaker.
I was certain that if I followed my passion, the money would follow. If I served people, then I would make money right?
I lost $40,000. Lifes were transformed but my bank account was empty with $40,000 of invoices to pay.
I was devastated. Deflated. I felt like a total fraud. How did this happen?
Being the rebel that I am, I refused to accept defeat. I learned how to fill my annual events with 100-250 attendees and create 6-figure paydays.
I was hooked. The transformation was phenomenal. I had found my calling. The magic in the room. Lives being changed. The profitability. All of it.
But something in the coaching industry was really bothering me and it was the focus on profits over people. The focus on getting butts in seats just to use heavy-handed sales pitches to make money from anyone who was willing to buy was disheartening, to say the least.
Here's the good news: people are waking up and seeing through the sales formulas. They're looking for real transformation.
After hosting over 100 live events of every type and up to 600 attendees, I've made every mistake in the book. 
I have also learned how to fill the room with the right people (not just give away free seats), generate a profit without having an event that's just a sales pitch, and how to deeply transform lives, all while creating a worldwide platform for my message.
I'm sharing what I know with you so you don't have to make the same costly mistakes I did and you can create your event, workshop, or retreat to be profitable while being 100% you.
"Not all events are created equal. We've all been to the 'bait and switch' live event that promises to change you and your business, but only crams a bunch of hype and content into a few days so you can't possibly apply anything…unless you buy the big prize behind the curtain.
Angella's events and the way she teaches others to lead events are the much-needed antidotes to this time-worn and over-used formula.
She delivers on her promises and not only gives just the right amount of content you can actually DO something with, she actually helps you shift your energy & beliefs RIGHT THERE so you can apply what you learn in a meaningful way. People often want to dive deeper with her afterward not because they need to, but because they WANT to…because they know she's gonna keep on delivering and transforming long after the event high has worn off.
Truly, she's a marketing and event wizard. She's transformed my life & business and I can't recommend enough learning all you can from her. Get in her presence. You'll be grateful you did."
Kris Prochaska
Questions?
Contact me at team@angellajohnson.com