Discover Your Unique Way to Share Your Brilliance
and Make Consistent Money.

Here's what most people do:
(even the smarty pants)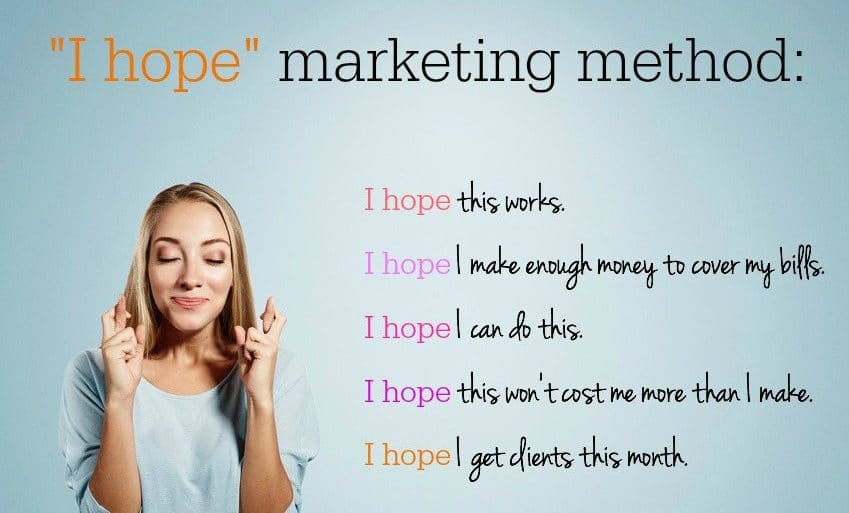 Or maybe you've told yourself:
"I can market others better than I can market myself."
"If I work just a little harder and a little longer, it's got to work out."
"I'm sabotaging myself so I need to do some more mindset work before I can really put myself out there."
"Why don't I implement? I create a plan but then life takes over and I don't get it done."
"Ugh, if that's what it takes to sell my services, I don't want anything to do with it. That just feels gross."
Here's the bottom line:
You can be brilliant but if you're not marketing yourself consistently, you won't make consistent money.
If that happens long enough, you'll likely convince yourself that you have a money mindset problem, you need yet another class or certification, or maybe you just don't have what it takes to make this work.
Or you could be one of the brilliant people I meet who has given up on their dream because they couldn't get this marketing thing figured out.
The upgraded Intuitive Marketing Course 2.0 will be live on August 1st.
After teaching dozens of entrepreneurs through the Matrix and the Method, this self-paced course with over a dozen modules is designed to empower you to know how to effectively market yourself so you create consistent income without burning out or selling out.
There are SO many "right" ways to build a business and this course guides you to discover YOUR way to grow your business.
The full online course includes:
over a dozen trainings to guide you to know how to market yourself consistently!
a guidebook that walks you through the process
PDF handouts and checklists
Marketing plan examples
Facebook group for monthly accountability
24/7 lifetime access to the material so you can come back anytime
Included is a ticket to an in-person workshop too!
50% off ticket to Business Alchemy, my annual live event
This is ideal for people who love to learn in a live environment with a way to get your questions answered, plus the ability to come back to the content anytime you desire.

Investment: $997 USD
or easy-pay option of $175 per month for six months

What's in the Course:
The Intuitive Marketing™ Method and Matrix are dynamic tools you will adjust to how you work best.
However, if you don't have a message of what you uniquely do or have offers and price points that bring you joy, your marketing will fall flat. So that's why I'm making sure you get what you need to really create ease, consistency, and confidence in your marketing!
The Course Includes: (Video + Audio + PDF handout)
Offers 101 – How to craft an offer that deeply serves people and makes you great money without giving your time away.
Offers 201 – How to scale your services and create leverage without losing the high touch your clients need to get results.
Perfect Pricing Potion – How to price your services, events, and products that attract ideal clients and honor your talent, time, and lifestyle.
Craft Your Compelling Message – What do you uniquely do that no one else does?
Intuitive Marketing Method:

The Four Principles of Intuitive Marketing
Traditional Marketing vs Intuitive Marketing
Create Your 1-Page Plan
Scheduling Hacks to Make Sure You Implement
How to Create Content that Organically Sell Your Offers
Delegation Tips to Get Things Done that You Suck At!
Bonus Trainings: (Video + Audio + PDF handout)
How to Use Expansive Questions to Create Momentum in Your Business without Hard Work
Top 10 Questions to Ask to Activate Your Money Flows
10 Ways to Get Clients in the next 30 Days
Client Onboarding Process – How to create a flow so your clients feel genuinely taken care of and are ecstatic about investing with you.
Content Repurposing – how to create ONE piece of content and use it in multiple places!
Top 5 Ways to Grow your Email List with Engaged People
How to Create Email Sequences that sells your products and services without the hype
Bonus PDF Handouts and Checklists:
Delegation Tips
Opt-in Page Template
Sales Page Template
Marketing Plan Examples to sell low-cost program/product, events, retreats, and 5-figure programs
Each training is no more than 30 minutes and most are 15-20 minutes so you can learn what you need and get to implementation right away!
Client Onboarding Process
What to Delegate to a VA

This is for you if you are:
✨ A service-based entrepreneur, including a coach, consultant, practitioner, healer, speaker, author or other service-provider including chiropractor, insurance agent, realtor, etc.
✨ Ready to be truly empowered vs told what to do and never trust themselves
✨ Willing to deepen your awareness aka intuition and trust it
✨ Coachable and accountable
✨ Excited about making consistent income in a way that nurtures your soul and gives amazing value to your clients
✨ Dedicated to providing your clients with a stellar experience that also creates transformation
✨ You are willing to make money! And a lot of it consistently.
This is NOT for you if you are:
Convinced that the only way to grow your business is to focus on vanity numbers on Instagram, YouTube, etc. Why? While big email lists and having tons of followers on social media can LOOK cool, it doesn't always equal sales.
Manufacture a physical product at a super low cost so you need exposure to hundreds of thousands (or more) people in order to sell enough.
More comfortable with a guru telling you what they did to grow their business and you hope it works for you.
Resistant to words like intuition, energy, soul, awareness. If you roll your eyes at Intuitive Marketing, this isn't for you.
Looking for a cookie-cutter formula that promises the magical fruit of $10k months
Just about making money and don't care too much about the quality of service you provide
Think money is bad and a necessary evil.
Focusing on solely growing your email list and/or social media following without having a consistent client base first.


Investment: $997 USD
or easy-pay option of $175 per month for six months


Marketing shmarketing – what if it can be way easier and way more effective?
I know you put your heart and soul into your business and there is part of you that really wants to believe that if you follow your passion, then the money will show up.
I also know that you've likely tried some things… and they didn't quite work out.

What is the Intuitive Marketing Method™ and what will it do for you?

Most marketing teaches you a formula that promises big results if you just follow the system. So brilliant people follow the steps only to find that it doesn't work. Then they are told to either work harder, that they have a mindset issue, or something else is wrong.
The only thing that is "wrong," is that they are trying to fit into someone else's formula and that's why it's not working.
These sexy systems and formulas bypass the most important elements: YOU and what actually works for your unique business.
The Intuitive Marketing Method teaches you how to connect to your intuition AND the soul of our business and your offers so you can navigate the many options out there and choose what works best for you.
No two businesses are the same.
The same marketing strategy will work differently for different businesses.
There is NO WAY you can fit into a box.
This method is about finding what works for you and trusting yourself.
It's not about doing it by yourself and ONLY using your intuition.
This is where soul meets strategy and your intuition guides your action. (Yes, you're going to have to do some stuff to get results.) 😉
If you've ever wondered how to bring ALL of you into your business, including your intuition, the answer is YES it's possible and I'll show you how.
Self-Trust
It's easy to look outside of yourself for your answers. We've been taught to do this since we were very young.
And while it's crucial to receive guidance from experts, it's MORE important to trust yourself to know what guidance is meant for you.
While you'll learn the concepts of Intuitive Marketing, you'll also learn to trust yourself, which means you trust your ability to create what you truly desire and that's priceless.
Crystal Clarity
If you're not clear on what problem you solve for people or your innate value, no strategy in the world can compensate for that. With my clarity guide, you'll know exactly what your solution does for your ideal market and how to turn that into potent content that naturally sells and pulls in your ideal market.
With this clarity, you're ready for the next step: the Matrix. (not the Keanu Reeves version, the Intuitive Marketing Matrix™.)
The Matrix
Marketing can be broken down into four simple areas and when you know what these are, it's easy to create a simple marketing plan that actually works.
And when it's simple, the likelihood of you actually implementing your marketing plan is much higher. Having a plan without implementing is like trying to drive your car without an engine and wondering why you're not moving.
You'll learn the matrix and create a plan using my easy 1-page template.


...fresh and practical approach
"I've been in marketing for 20 years. This is a very fresh and practical approach. This is one of those rare moments where I think, 'damn, what a brilliant marketer!'"
~Jessica V. | Mexico
Hands down, this is one of the most pragmatic and tangible classes I have ever attended.
"Get your buns to one of your marketing classes! This class demystifies all the confusion, doubt and scatteredness of where most entrepreneurs function from with marketing. Hands down, this is one of the most pragmatic and tangible classes I have ever attended."
~Trudi S. | Canada
This workshop made marketing more simple, clear and possible for me.
"You helped me to pull apart the pieces of marketing so I could actually get my head around how to implement and what's next. I now have several plans to work in my biz and when I get an idea I have a template to "play" and create with. This workshop made marketing more simple, clear and possible for me."
~Cindy P. | New Zealand
You just make it easy!
"You have a way of getting me so grounded and clear and now I know what I need to do next to grow my business. I was making it so hard and you just make it easy!"
~Jess W. | United States
Why I Care So Much:
Once upon a time…
I hired an expensive coach. It was more money than I had ever spent other than my rent, mortgage, or college tuition.
I was so tired of being broke.
I was so tired of that pit in my stomach 24/7 that held the secret fear of, "What if I suck and what if this doesn't work?"
So when I heard, "Just do everything I tell you to do and you'll be successful," I was happy to listen.
I followed the formulas. I discounted my intuition to the point that I completely shut down my spiritual connection.
But I was making money! I was the poster child of a 6-figure business.
It worked until it didn't.

That's when I learned lesson #1:
Making money can be expensive if you don't listen to your gut.
You'll pay the price somewhere and I did.
My life crashed. Depression set in. I had lost myself.
But hey, I was making money.

That's when I learned lesson #2:
Making money does not = cash flow.
Money was coming in but it was going out at the same speed and sometimes faster.
There was never money left over to pay myself, to save, and I was still accruing debt.
But… I had a "six-figure business." <eyeroll>
Then I started seeing some of my clients get results and some of them weren't.
I had a sneaking suspicion that this was because some of them were in alignment with their purpose and some weren't.
Some were listening to their gut, and some weren't.
Notice a pattern here?
I was onto something and when I asked my coach about this, she said (this is an exact quote as I will never forget these words), "You win some, you lose some. As long as they can pay you, it's not your problem."
What the actual hell?
The good news is that finally got my attention.

And that's when I learned lesson #3:
Strategies cannot override your intuition. Intuition cannot override strategies.
What occurred over the next few years was me learning to merge the worlds of strategy and intuition and un-learning all of the one-size-fits-all formulas that by that point I had invested over $250,000 in programs, products, and events to learn.
Ouch.
No really, it super-duper sucked.

Rather than you taking a few years of experimenting with what works and doesn't work, I've put those tools into this virtual self-paced workshop so you can do three crucial things for your business:
1. Awaken and deepen your intuition, particularly when it comes to your business.
2. Know how to make money YOUR way anytime you choose.
3. Create easy 1-page marketing plans that actually work.
#boom
Welcome to the Intuitive Marketing Method™, baby!

Frequently Asked Questions
Do I need to have a clear message before taking this workshop?
Messaging and marketing go hand in hand, which is why I lead you through brief messaging work with every marketing plan you create in this method.
Is this workshop live?
After running this workshop and versions of this workshop a few dozen times, I pulled the best and most effective pieces and put them into an instant-access format for people. This way, instead of waiting for the next time I run a live in-person workshop, you can get started right away.
This virtual workshop walks you through the principles step-by-step with the opportunity to ask me questions and get live support through the Facebook group.
This way, you can take yourself through the steps anytime you want to launch something. It's like having me on speed dial (in the Facebook group) at a fraction of the cost of private coaching.
What if I have questions as I go through the course?
Here's the thing – you WILL have questions. This method requires you to UN-learn a ton of the marketing crap you've been taught (and likely paid lots of money for) and this will stretch you. It will also be soul-reassuring, healing, and empowering.
There is a Facebook group where you can ask questions about the course and content. If you are looking for active personal coaching on your business, I recommend looking into the LAB program at some point. *Remember, when you invest in this course, you can apply your investment to the LAB program or private coaching within 30 days.
But I really suck at implementation!
Marketing without consistency is such a bummer and we know it doesn't create results.
The lack of implementation is the BIGGEST problem I see when people have a lack of results. While I can't make you do stuff, I have designed this course to give you monthly accountability check-ins via email. It includes a monthly email with the audio guide to walk you through creating your 30-day plan for the following month.
What if I really hate to market myself?
Do you really hate to market yourself or do you hate to market yourself in ways that don't feel good to you?
After working with entrepreneurs for ten years with their marketing, I find that people don't actually hate to market when they are aligned, confident, and clear about what they are creating.
Without clarity about your value and how to share your services, marketing often feels blah! I get it. That's why I created this virtual workshop so you can get the clarity and create ease with your marketing.
What if I would like more long-term support?
This workshop can create amazing things in your business if you DO the actions. Just like any course, event, program, or product, you have to actually do stuff with the things you learn.
If you are looking for support with implementing things (accountability), more live support from me, and a community then the Intuitive Marketing LAB would be a great fit. It's a 12-month program for people who know they "should" be doing marketing but just aren't doing it. It's the place to actually get stuff done and have more interaction and support from me and a community.
The LAB is the most affordable 12-month program I've ever done at $2,500 for the year or $250 per month and it includes this workshop.
If you are interested in that, you can check it out here and book a strategy session with me to see if it's the right fit for you.
Or if you want to get started in the process, I recommend registering for the workshop first and I even let you apply the investment toward the LAB if you choose to join within 40 days of registering.
What if it doesn't work? Do you offer refunds?
I can't guarantee that this will work for you. WHAT? Because I can't guarantee you'll do the work.
What I CAN guarantee is when you go through the steps, engage, ask your questions, and show up for yourself, you will see progress. How much progress? How big of results? That's entirely up to you.
Another thing I CAN guarantee what I teach you in this virtual workshop really works. I use it. My clients and students use it.
Plus, I'm here to answer your questions in the Facebook group as you go through the steps.
All of that said, I don't offer refunds. The workshop is thoroughly laid out here and I deliver great content.
If you're not sure this is a fit for you, email me at team@angellajohnson.com with your questions and my team or I will reply as soon as we can.