You weren't born to fit into someone else's formula and neither is your marketing.
(No, the answer is not to hustle more.)
Get your free Intuitive Marketing Course!
Discover & create marketing that actually works because it comes from within YOU.
Here's what's inside:
Intuitive Marketing Matrix that outlines the four types of marketing you need so you make money consistently without burnout or feeling gross.
1-page marketing plan template that's easy, practical, and is fueled by your soul's vision.
Audio guide that walks you through how to use the Matrix and create a 1-page plan for everything you sell.
Money Activation for your business, which is a beautiful printable and screensaver that features a simple question that activates more flow, self-trust, and clarity in your life and business.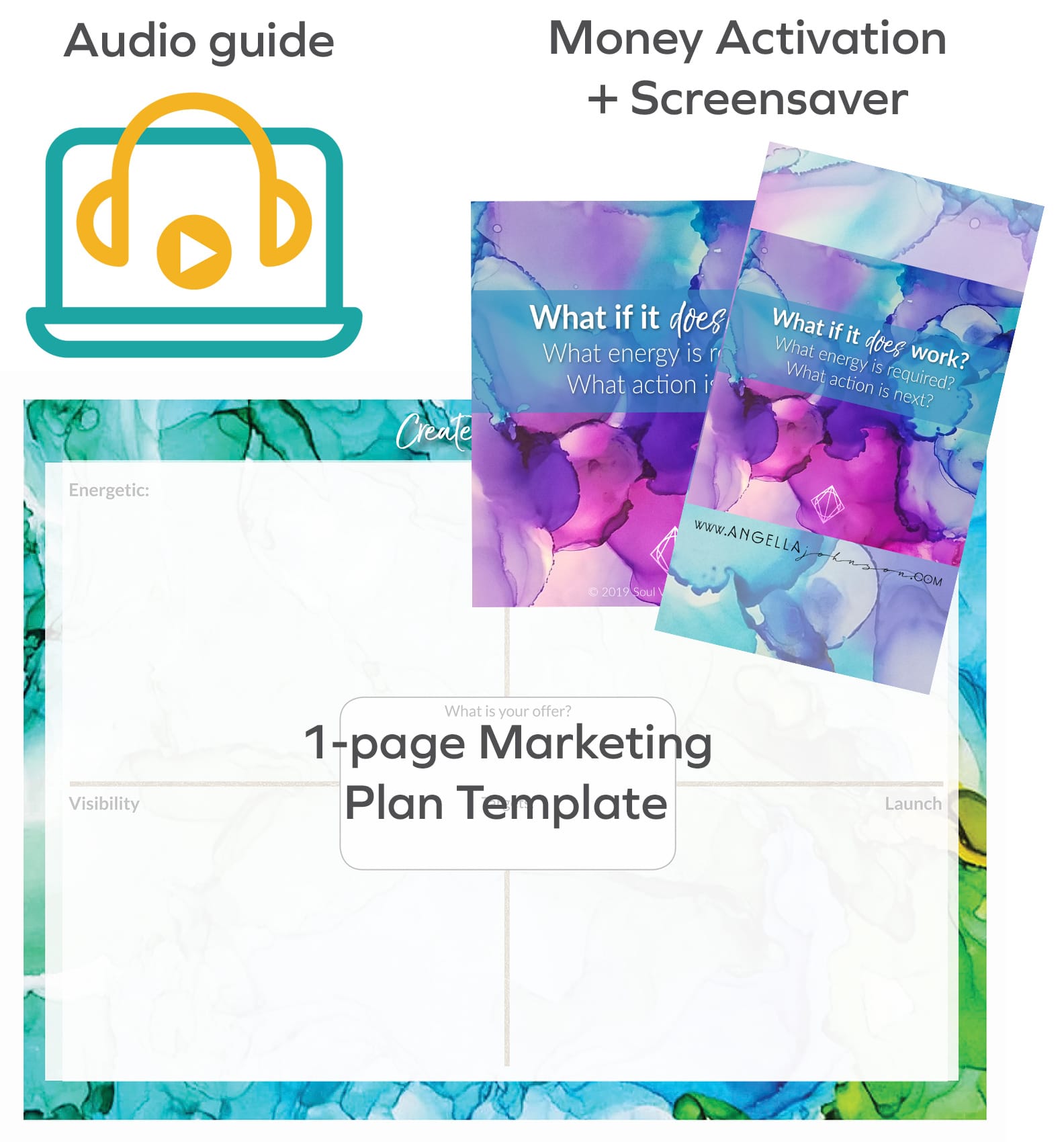 This Intuitive Marketing™ course provides practical tools and soulful inspiration so you can learn how to create consistent money without they hype or burnout.
You'll cut through the hustle and formulas and get back to your soul and the soul of your business.
What if your marketing could be easy? Inspired?
And even joyful and soul-nurturing?
It can be and I'll show you how.

Meet Angella, the Creator of the Intuitive Marketing Matrix™ and Method and your guide to discovering just how easy marketing your business can be:
Quiet Rebel. Marketing Alchemist. Wordsmith. Messaging Maven. Empath. Intuitive. Introvert. Truth Teller. Artist.
Frequently referred to as a "messaging and marketing genius" and the "Harry Potter" for business, Angella Johnson blends the world of strategy and intuition together to guide entrepreneurs to make great money doing the work they love.
As the founder of The Collective for Creators and the creator of the Intuitive Marketing Matrix™ and the Soul Message Archetypes™, she is known for her game-changing and simple strategies, authentic vulnerability and deeply intuitive coaching. She blazes the path for entrepreneurs to trust themselves, break the rules, and radically change what they think is possible and make more money without the hustle or hype.
Angella is an author and international speaker who has shared stages with dozens of visionary leaders including Lisa Nichols, Elizabeth Gilbert, and Lynn Twist. When Angella isn't working with her private clients, hosting events and retreats, or facilitating her group programs, she's creating art, writing, traveling, and spending time with her friends, family, and hilarious husband in the beautiful state of Utah in the US.