Word is a 4-week course on messaging and copywriting for Transformational Entrepreneurs. Without having a core message that speaks to your ideal audience, what do you have to market? This is a crucial component to making your marketing effective.
Investment: $297 USD
What's WORD?
Without a message, you have nothing to market. 
WORD is my online course that guides you to get clear on your message then how to that into the words you use for your website, social media, and all of your marketing platforms.
Specifically, you will learn:
Your Soul Message Archetype™ that will catapult your confidence and clarity.
The four layers of messaging so you stop trying to fit everything you do in one sentence or title and be able to create content for your blogs, videos, and social media.
How to emphasize possibilities instead of pain points, which is what most people are taught and it's attracting less-than-ideal clients.
How to create a signature system to amplify the transformation you create with your clients.
How to be a solution provider instead of a problem solver, which will attract dream clients and authentically command pricing that matches your value.
Authentic and non-slimy ways to speak to the hearts and wallets of people who are looking for you.
*The updated version of this program will be available on December 17. In the meantime, you will get the recordings of the previous live class I taught.
*If you have already purchased WORD, watch your inbox on November 26 for your 1/2 off code to get the Intuitive Marketing Workshop for half off.

Marketing your business can be easy and effective and this virtual workshop that walks you through:
The four levels of marketing and how to implement them so you create consistent leads and cash flow.
How to create an easy 1-page marketing plan for anything you are launching.
How to alleviate overwhelm and know what strategy works for you.
Investment: $297 USD
This will live on December 15. Get the details here.
What's the Intuitive Marketing Workshop?
This self-paced virtual workshop provides step-by-step modules that take you through my proprietary Intuitive Marketing Method where you will:
Identify the four layers of marketing (you'll create an easy-peasy plan for each layer)
Learn how to effectively launch your next product, program, or event without the hype-filled and dreaded "launch."
Accurately tune into your intuition and let it guide you through choosing the strategies that work for you.
Learn from sample marketing plans you can model after
Get clear on strategies that work for you instead of getting lost in the dozens of "right" ways to grow your business.
Have full access to my 1-page Marketing Plan template to use anytime you want
Have checklists for the tech part of marketing, what to delegate, and more.
Be guided through the questions to ask yourself before you market anything so you can get inside the heads of your clients
Get clear on the real benefits and possibilities you provide instead of the empty hype-filled promises that many 'experts' teach you to have.
BONUS: 1 month's full access to my Intuitive Marketing LAB, which starts in January and this provides live calls with me, trainings, and more to support you with actually DOING your marketing and getting real results.
Overall, you will heal your relationship with marketing and skyrocket your confidence in sharing your brilliance with the world.
*This virtual workshop will be available December 15.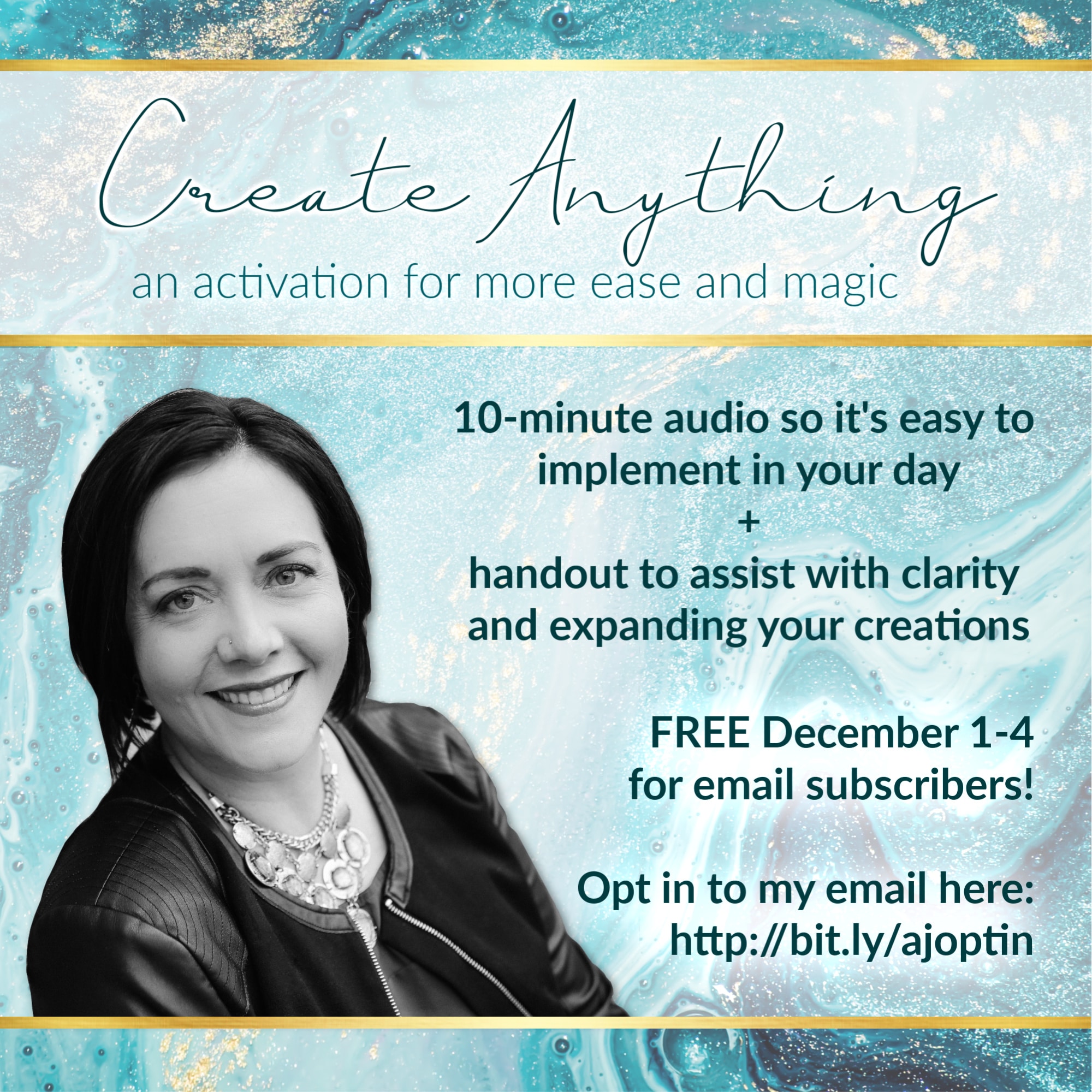 What's included:
An audio overview of the process and how to integrate it into your life.
A 10-minute audio to listen to (preferably daily) to activate your desires to come to fruition.
A handout to assist with deeper clarity on what's possible and your ability to create it.
In this "Create Anything" is my personal practice of creating things to magically show up in all areas of my life. The best part? It takes just minutes a day to get your mind, desires, and actions aligned.
This is great to use when you want to:
Amp things up when business is slow
Create more money and clients
Have the "big" stuff show up in your life like houses, cars, relationships, healing, and more.
Simply have more ease and flow in your life
Experience more day-to-day deep gratitude
Create with more ease
Trust in your ability to ask for more magic and have it show up
$37 USD
Looking for ease and profits for your next live event?
My Event Magic and Transform Events course will be available again in Spring 2019.
To be notified when doors are open, put your deets below to be added to the VIP list: