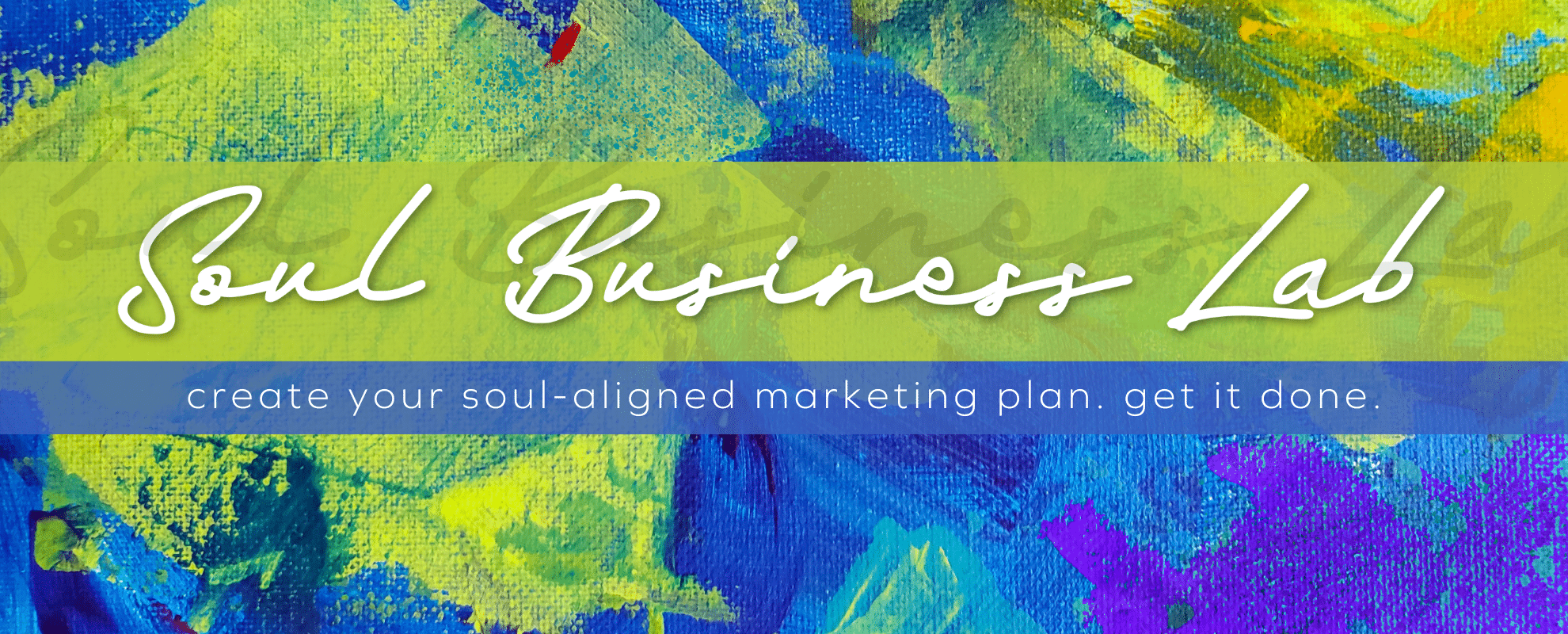 Get your marketing done.
Grow your soulful business without the hustle.
Be part of a community who is doing business differently.
Join the Soul Business Lab for just $150 per month or $1,500 for the year.
Enrollment will be open from December 7-18.
"I'm actually doing my marketing instead of it being put off for other things!"
"I have consistency with creating content & calls to action and putting it out there – YES!
I'm proud to say I'm doing it."
 What's Inside the Soul Business Lab Program:
Monthly Live Marketing Planning Session
Without a marketing plan, it's too easy to lose track of your month and not reach your goals. Each month, I personally walk you through how to create an easy marketing plan.  Doing this on a live call with your community is more effective than doing this on your own.
These calls are on the 3rd Thursday of the month so you can map out the following month of your business and facilitated by me. The call is at 1-2:30 Mountain time and is recorded and archived so you can access the recording anytime.
Weekly "Butt-in-Chair" Co-working Virtual Sessions
Why "butt-in-chair" sessions? Simple! You need to get something DONE and this way, you're more accountable to show up and do the work. With this habit in place, you'll create more results with more ease.
How the session works, is you hop on Zoom and share what you're going to be working on during the session. At the end of the session, everyone celebrates what they accomplished and also determines what their next action item is. These sessions are facilitated by Carrie, my awesome program manager.
There are three different days of the week with three different times to work for North America, Europe, and Australia/New Zealand.
Weekly Marketing Momentum (M&M) tip to your inbox
These are simple tips that will take you less than three minutes to watch/listen/read that you can implement right away so you build your skillset over time without the overwhelm.
Monthly Trainings and Q&A + Masterminds

Every month I facilitate a training and we have some Q&A time. We mix up the trainings with small-group masterminds, too.
This is also where there is time for laser coaching, too.
These calls are on the first Thursday of the month from 1-2:30 pm Mountain time.
Access to These Full Courses (Valued at over $2,000)
Intuitive Marketing Full Course ($997): This course you through your message, crafting your office, pricing your offers, in-depth training on the Intuitive Marketing Matrix, and more!
ASK ($127): How do ask expansive questions to manifest what you want, co-create with the universe, and deepen your intuition. In this 3-part class, I walk you through the science behind the questions and ways to use questions to create magic in your life and business.
WORD ($497): This is my popular course all about messaging and copywriting in a way that's authentic, compelling, and effective.
Art of Enrollment ($497): How do you sell without feeling slimy or being manipulative? In this course, I walk you through how to have sales calls and to sell from any stage (virtual or in-person) and have it feel great while getting you sales with your ideal clients.
PLUS, full access to all of my mini-classes throughout the year! I teach anywhere from 5-10 mini-classes per year and you get full access to them.
Soul Vision Planner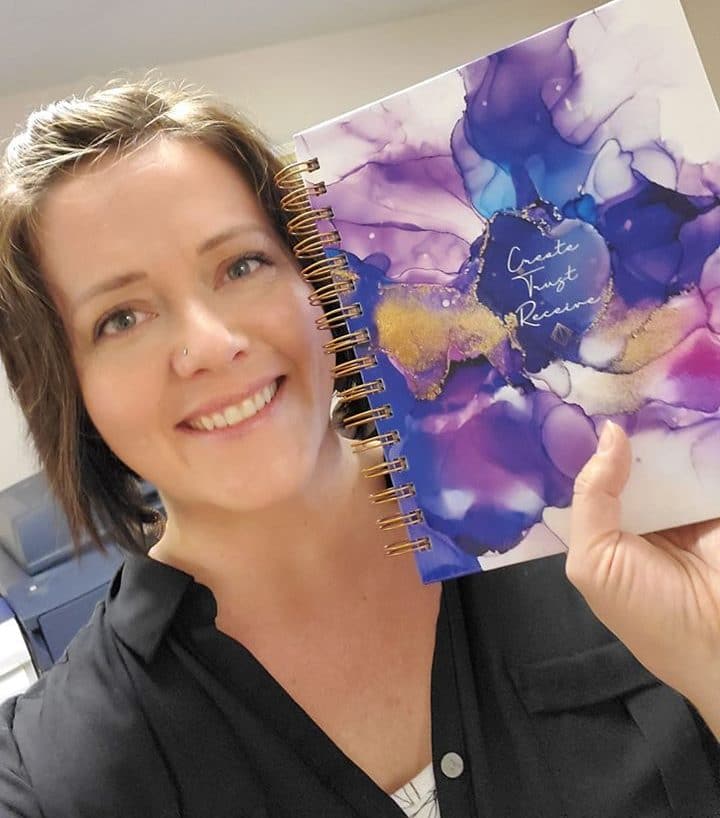 This gorgeous planner goes hand-in-hand with the Essentials program is $97 on its own + shipping. This is part of your program and will be shipped in your first month.
Access to all live trainings I host through the year
When I host mini trainings and paid classes, as a member of the Soul Business Lab, you get free access to them!
*Classes I co-host or longer events are not included for free, however, you will get special member pricing.
Online Community Forum
We have a private community OFF of Facebook that is easy to navigate, distraction-free, and easy to access as often as you would like. This is a great place to ask questions, celebrate your wins, and connect with other community members.
Together, we're doing some big work:
Expanding your knowledge and skills in marketing, messaging, and overall business.
Developing effective habits for creating content, time management, and marketing tasks.
Shifting your abundance mindset so you can receive your ideal clients with more ease.
Creating in a community instead of trying to do it by yourself.
UNLEARN toxic marketing, which will empower you and create healing on many levels.
Getting more and more comfortable and consistent with being visible.
Honing in on your superpowers and what makes you stand out.
Creating habits of success vs relying on a formula to create results.
Take a Tour of the Intuitive Marketing Course that's included in the program!
The methodology that we use as the framework for this program is the Intuitive Marketing Matrix, which you'll learn step-by-step in the course:
"I have more consistency in working on my content. I'm definitely getting more done! The weekly butt-in-chair sessions have been such a help!"
Registration opens again on December 7, 2020.




Get notified when doors are open.
This is for you if:
An entrepreneur who is also committed to use your business for good and to do your part to break down oppressive systems so we can collectively co-create a world of anti-racism, kindness, and where everyone's rights are honored, including BIPOC, LGTBQIA+, women and children.

An entrepreneur with an offer ready to sell.
Willing to get out of your comfort zone and find your authentic rhythm of marketing and being visible.
Willing to take up space in the world with your big ideas in your authentic way.
Willing to create more structure and consistency, even if you've rebelled against this in the past. (you'll be in great company)
The kind of person who takes accountability for your choices and results.
A service-based or product-based transformational entrepreneur.
Excited about normalizing conversations you are passionate about so we create new norms in the world.

 

Willing to unlearn toxic marketing, even if it's gotten you results to this point.
This is NOT for you if you:
Are just starting to think about having a business but you don't have any paying clients yet.

Are promoting harmful practices like diet culture or are not in support of being anti-racist in your business.

Use spiritual bypassing as a way to not take a stand for humanity and social issues.
Want to be told what to do and never make choices for yourself.
Give yourself one point for every statement that's true. You:
⬜ Know you need to implement consistent habits for your marketing but you're not doing it.
⬜ Would like to share your business in a way that's easy, organic, and that brings in clients.
⬜ Want to learn how to market yourself intuitively and to UNLEARN one-size-fits-all marketing formulas you've likely been taught.
⬜ Excited to be part of a community that is showing up and doing amazing work in the world while also being present to the world around them (like a pandemic, social justice, and other world events).
⬜ Want to be cheered on with your wins and supported through your challenges.
⬜ Know that implementing your marketing is easier when done in a supportive community.
⬜ Kinda suck at personal accountability and have an easier time following through when there is some structure to support you.
⬜ Ready to build your mindset and money-making habits to create ongoing and sustainable momentum in your business.
⬜ Are willing to create outside of your comfort zone while still remaining fully in alignment with who you are.
⬜ Are good at flying by the seat of your pants (at least that's what you tell yourself), yet know you could create more ease and abundance in your business if you had a plan.
⬜ Don't have the energy left to market yourself consistently after allllllll of the things you do, including things for your household, parenting, taking care of your health, self-care (even if that means peeing without a little human in your household knocking on the door the whole time), managing your mental health, and figuring out what to cook for dinner every. damn. night! 
⬜ Feel conflicted with some or all of the strategies you've learned (and maybe even paid a lot of money to learn) and don't know where to start.
⬜ Are willing to acknowledge when you're simply uncomfortable and at a growth edge and not use your discomfort as a "sign" that it's not meant to be.
⬜ Are no longer willing to compartmentalize your intuition and soulful essence from your business and marketing.
Let me guess, you likely resonated with a lot or even all of this list.
If so, you're like every soul-inspired entrepreneur I've met. And it's exactly why I created this program.
You're not broken or flawed. You simply just need to uncover YOUR unique way of marketing. Plus, you'll detox from toxic marketing and heal your self-trust. #happydance
"I have a consisten focus on marketing activieis. I have LOVED the Monday butt-in-chair sessions."
"I'm consistently showing up for my email list and now that I have social media support,
I'm starting to show up more there, too."
What if the weekly virtual work sessions don't work with my schedule?
Good news! We have THREE weekly Butt-in-Chair sessions to choose from every single week.
USA and Canada:
Mondays from 12-1:30 Mountain time
(11-12:30 Pacific / 1-2:30 Central / 2-3:30 Eastern)
Australia and New Zealand:
Wednesday at 9 am AEST and 11 am for NZST
(Tuesdays at 2pm Pacific / 5pm Eastern)
Europe:
Wednesdays at 4pm CEST and 3pm BST
(8 am Pacific time / 11 am Eastern time)
To confirm your time zone, use this Time Zone Converter.
If it's truly impossible for you to attend the weekly sessions especially, I highly recommend pairing up with 1 or more people in the group and booking your own "butt-in-chair" sessions together. 
What if I already have the programs included in the Soul Business Lab?
The programs included with the program are:
Intuitive Marketing course ($997)
WORD ($497)
ASK ($100)
The programs are treated as bonuses to the program and the bulk of your momentum is going to be on our live sessions every month.
If you already have all three of these programs and you register for Soul Business Lab, then I'll gift you a 45-minute private session with me that you can use anytime within the first 90 days of joining.
I have the habit of buying programs but not doing the work. Will this be different?
I get it. We've all done it.
This program is different than online courses because in addition to the knowledge and skills you'll learn through the self-study modules, you have live and consistent sessions within a community and that makes all the difference.
At the end of the day though, you've got to choose to show up for yourself and no one can do that for you even if you invest a lot more money in programs.
Does this program ONLY focus on marketing?
While marketing is the foundation of this program, you need to have a few things in place so your marketing will work:
A compelling and authentic message
Aligned offers and pricing
A mindset that's willing and coachable
And other skills like leadership, time management and much more.
This program includes all of that. We address your message and make sure you have something solid to sell.
Depending on what you need first, you'll focus on that portion of the course. 
Then during our live monthly workshop and the live monthly planning session, you'll have the opportunity to ask me questions as well for further support and feedback. 
How do I get feedback on my business during the program? Is there a place I can ask questions?
The two main ways to ask questions are to attend the live workshop and planning session that I facilitate every month.
The other place is to ask your question in our online forum. This is NOT a Facebook group but our own slice of online heaven without the drama and distraction of Facebook. 
It might be an adjustment to check our forum regularly if you're used to engaging in Facebook groups. However, it's a distraction-free forum that is solely dedicated to you and the community so it's worth the extra effort until it becomes the norm. 
I'm used to seeing programs like this for a LOT more money. Why is this priced the way it is?
To be honest, I've paid 10x this amount for what I'm providing in this program. 
So why is it only $150 per month?
The answer is simple and I'm going to be really honest (and use a cuss word or two):
Someone at some point made up the myth that if you pay more, then you'll get more value. And if you pay premium pricing then you're worth more… blah, blah…
I call bullshit. 
I teach aligned pricing and could care less about premium pricing as THE way to go.
I believe that online business is waking up to demand true value vs inflated value that looks sexy but has no substance or originality.
I consciously chose a price that is both accessible and creates a generative exchange so I can hire great team and be available to contribute great value to you. 
I don't love group programs but I love your approach to business. Do you work with people privately?
I sure do! If you are established in business and you know what you do and what you offer, then private coaching or another program may be a great fit for you.
Currently, I have a wait list for private clients until February 2021. Rates begin at $750 per month for private work.
If that feels like it could be a fit or you'd like to explore other programs that may be a better fit, you can book an Explore the Possibilities call with me here for $97 and you can apply that to any service you choose.
What if I register and it turns out that it's not a good fit? Can I cancel before the 12 months?
This is a 12-month program and I'm positive that when you show up and engage, you'll see results.
If you're not ready or willing to make a year-long investment in your marketing, this program isn't a good fit for you.
Or if you're expecting to learn something new but not show up to actually implement it, then that's going to be your learning curve. 
If you're looking for some initial help that's a private session with me, you may have a better fit with my 2-hour Marketing Makeover session or my 3-month private coaching program. For more details, you can email team@angellajohnson.com.
I have a question that I don't see answered here, can we hop on the phone? Or how do I ask you my question?
My team and I are more than happy to answer your questions.
You can email your questions to team@angellajohnson.com. Ninety-nine percent of the time, this answers your question. If your question falls into the 1% that needs a conversation, we'll let you know how to coordinate a 10-minute chat with me or my program manager.
Is this the kind of program where we never see you or get to interact with you?
 GREAT question! 
You'll see me and my program manager, Carrie. 
Carrie runs all of the butt-in-chair sessions and you'll love her. She's a badass business owner, amazing facilitator and she speaks the language of energy and business, just like I do. 
I facilitate the monthly workshop and the monthly planning session + all of the other live classes you have access to throughout the year. 
For the online courses, I'm the sole teacher. 
In our online forum, both Carrie and I are in there every day during the week to answer your questions. 
So the bottom line is, I'm very present in the group and you're in excellent hands with Carrie during the weekly butt-in-chair sessions.
Plus, this is designed to support you to lean into the community and not rely on me as the source for "answers."
Why do you have an application process for this level of program?
I want to make sure you're a great fit for the program and the program is a great fit for you. 
This way, there are no surprises and we start this out with a fabulous commitment to we can hit the ground running.
Well I only run if I'm being chased by something, so you can move at whatever pace you want.
But this way, you'll start creating momentum right away.  👍
Get notified when doors are open on December 7, 2020.

Meet Your Guide: Angella Johnson
Rebel. Wordsmith. Artist. Intuitive Marketer. Courage Ignitor.
Frequently referred to as a "messaging and marketing genius" and the "Harry Potter for business," Angella blends the world of strategy and intuition together to guide entrepreneurs to make great money doing the work they love.
As the creator of the Intuitive Marketing Matrix™ and the Soul Message Archetypes™, she blazes the path for entrepreneurs to trust themselves, break the rules, and radically change what they think is possible and make more money without the hustle or hype.
She believes that our businesses can be used as vehicles to create social justice and equality while liberating women to create sovereignty. 
Angella has a global business and works with clients privately, in her classes, events, and retreats and has shared stages with dozens of visionary leaders including Lisa Nichols, Elizabeth Gilbert, and Lynn Twist. She is known for her game-changing and simple strategies, her authentic vulnerability, and her ability to merge practical tools and strategies with deeply intuitive coaching.
(photo credit: Sure Shot SLC)