While 2016 is around the corner, it doesn't mean that it has to be this big reset that we make it out to be.
I find that putting so much pressure on changing your life, your business, your bank account, your body, your family… at the stroke of midnight on December 31st doesn't actually create the desired outcome that we are seeking.
What if you scrapped New Years Resolutions completely and never looked back?
I stopped setting New Years Resolutions a few years ago and I've never felt so free. I've also created things in much easier ways than I used to. Coincidence? I don't think so.
While this can be a great time of year to consider where you want to uplevel, what if there is nothing wrong with 2015 or anything that you have created to this point?
What if creating your future can be wayyyyy easier than what you've been taught, or even what part of you believes is possible?
For this holiday season (and every day actually) here is my one wish for you:
==> Live YOUR truth. Be true to you. Live each day with your vision in the forefront.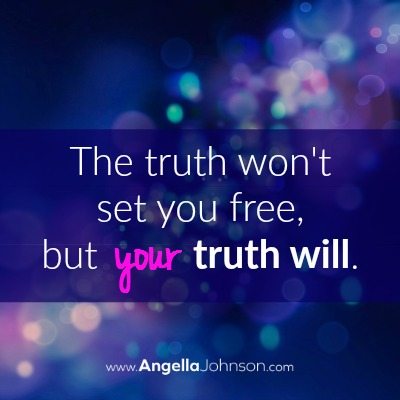 Remember that every moment you have the choice to get into deeper alignment with your gorgeous truth. And that is where change occurs: moment to moment.
The truth won't set you free. YOUR truth sets you free.
Ponder the things that would make you feel free? Like really free… that space where things just flow and where magic is your every-day experience.
Mmmmm…yeah. Breathe that in.
Creating your future that's in alignment with YOUR truth may make others around you uncomfortable. It will all be okay. They'll be more than okay, and so will you.
Rather than creating from the place of what you think will make others happy (including your spouse and kids if you've got 'em), create for you. Contrary to popular insanity, this act is not selfish. It's brave. Courageous. Honest. Real. Beautiful.
When you focus on what YOU are creating, it actually gives others around you the space to consider new possibilities for themselves. It's amazing what happens when people create in a way that is in alignment their truth…it's amazing to see where the truth of people in your life align and come together.
So here is to a happy holiday season and a new moment-to-moment beginning of deepening your truth and tapping into the magic of YOU.
Love and Magic,
Angella
P.S. I have something special that I'm announcing with my good friend and fellow magic-maker Alexis Logan are creating for you. It's an experience to assist you to unleash your unique Wealth Code™. Not sure what a Wealth Code™ is? Stay tuned. It blew my mind and created more magic in my life. I can't wait to share it with you.