A couple of years ago my uncle told me something that I'll never forget about luck.
He asked me if I love what I do and with a huge grin on my face I said "Yes, I absolutely love it," to which he replied, "you are so LUCKY because not many people can say that."
It's not luck. It's making decisions, taking risks and persevering the way MOST people talk about but never actually DO. (That is the formula for manifesting by the way.)
So when I had an opportunity to be an author in 
Manifesting in (High) Heels – Secret Rituals to Achieve Success
I jumped at the opportunity.
Why? To collaborate with other women who were creating big things in the world and share our tools with YOU because ladies, it's time to play a bigger game and we've got what it takes.But enough about me – let's talk about you.
When you get your copy today, I have some gifts for you!
I want to give you something BIG when you buy your copy of Manifesting in High Heels to get your manifesting groove on.
After you buy your book, simply forward me your Amazon order confirmation and you can choose from either: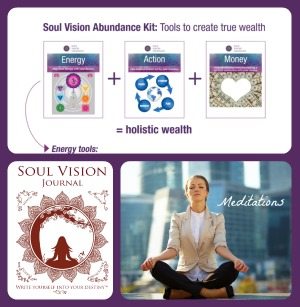 Option #1: Soul Vision Abundance Kit >>
Learn your money type and how to enhance your strengths.
Get my favorite manifesting tool: Soul Vision Journal
Learn easy money tips to create financial freedom!
OR Option #2: Soul Vision Marketing System 
Learn the easy way to launch your products and programs
Create a marketing calendar that inspires you instead of one that drains you
Get the insider tips to marketing so you never say "Marketing is hard" again
Want more than one book? You get more goodies.
When you buy five books, you get both products + a 30-minute coaching session (worth $250)
And when you buy TEN books, you get both products + a full 60-minute Intuitive Business reading (sells for $500 on my site).
It's a win/win/win!
To qualify for any of the above gifts, you must buy your book(s) by Sunday, November 2 at 8 pm Eastern time.  
In addition to learning manifesting rituals and tips, I want to personally thank you for helping me make a dream of mine come true: becoming a best-selling author. I'm starting my second book November 1st!  🙂
Happy Manifesting!
Angella