An accompanying video is at the very bottom of this post. >>
You can listen to this blog post here or scroll below to read:
I don't have "a word" for 2017. This was really bothering me until a day ago. Would I be missing out on something if I didn't find the perfect word?
Ah, the pressure. 😉
The truth is, while 2016 was an excellent year for me. I played safe. I needed to play safe. I slowed down. I played, a lot. I rested. I healed my body.
My words for 2016 were Leap, Receive, and Trust. A trifecta of sorts, which were all very present for me. (I had to do some digging to remember what my words were for the year. But looking at my year, those words were very much a part of my year.) 
I decided that this year is a theme, it's "choose me."
I've been in the space of asking where am I tolerating things vs creating the reality I desire to be living.
It's been a tender few days.
It keeps coming back to "choose me."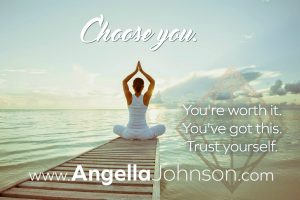 Everything I desire comes from choosing me: the expansion in my business and wealth, the adventures I desire, the places in the world I wish to experience. The relationships I choose to deepen. It all comes from choosing me.
What would my life and business look like a year from now if I radically chose me?
This is a new concept and the first time I heard about it, it triggered the thought "well that's selfish to 'choose me.'" I didn't get it. You can hear more about how this changed my world in a good way in my New Year's video here [link below].  
Would I spend another winter in Utah if I chose me? No.
Would I negotiate on moving my body regularly? No.
Would I wear a long sleeve shirt to family dinner so my in-laws don't comment on my tattoo again? No.
Would I apologize for my braces? Or joke about them as a way to apologize? No.
So what would it look like if I RADICALLY chose me? Honored me? Cherished me?
I can feel my whole being lighten up and expand with that energy.
What would our world look like if we were all 100% honest in who we are and engaged in relationships from that space? I talk about this too in my New Year's video – the power that my friend Alison taught me. She was my first female friend who completely owned who she was without apology.
What's your declaration for your life? This isn't just about "new year, new you." It's about how are we stepping up, standing up, and rising up. Every day.
Here's what I do know for 2017, there will be more visibility in being ME:
… another tattoo (I've got it mostly designed)
… a high probability of a nose piercing.
… additional colors in my hair. I may even chop it off this summer. I'll see what fancies my mood. My husband thinks blue hair is sexy, lol. (really, that's his thing – who knew?!)
… more movement and freedom in my body.
… a release of extra baggage I've been asking my body to hold onto as protection.
… a bigger global presence, including events in other countries and, states.
… sun in December and January, even if I travel solo.
… my epic 40th birthday bash, which includes a spa day.
… travel, perhaps for several weeks at a time. It's feeling good to do an Amsterdam, Italy, Kenya, Australia trip in one global tour, instead of individual trips.
… the official launch of my podcast.
… expanding my gifts beyond the coaching the world. I'm very excited about a group of conscious business owners in different markets that I joined.
… The Intuitive Marketing Lab (my newest program) is changing a lot of lives.
… Getting certified as an Access Consciousness® facilitator.
… Growing The Money Club to hundreds of members and changing money consciousness on a global scale.
… more time with people who celebrate me and desire to KNOW me.
… more time with my "littles" (my nieces and nephews that I love like crazy)
… getting involved in some kind of non-profit and/or community development program locally. I'm not sure what this is, but I can feel it. I wonder what will show up?
… more creativity. My jewelry supplies are out and the paint closet is the next thing that's getting revived.
And wow, 2016 has been phenomenal. There are so many things to be grateful for:
I watched my nephew take his first breath. Just writing this brings tears to my eyes.

My message made its successful debut in Australia and I absolutely loved the people I met there. I can't wait to go back.
My hubby and I enjoyed live music together, it's one of my very favorite things in the whole wide world.
My IGNITE event hosted people internationally and my international client base also grew.
I served over 500 people directly in my events both offline and online.
My Intuitive Marketing™ method was born; the Intuitive Marketing workshops have been revolutionary for the attendees. Even bigger than this, I realized how much I love teaching and stopped trying to follow the teleclass and webinar model. Hallelujah!
My business has grown. More importantly, my self trust and my embodiment of who I am and the value I bring is deeply rooted and clear.

Having many sleepovers with the "littles." Doing the different voices as I read "The Very Cranky Bear" at storytime brings me pure joy.

I healed some relationships that were very important to me and cherish honest conversations even more.
I grew my team and I'm learning to ask for assistance. I'm delegating more. This is a big damn deal.
I experience true deep joy on a daily basis.
My relationship with money continues to expand; Some days I can't even believe how far I've come. I'm so grateful.
My team. A really big gratitude bomb for Lisa, my dear friend, head coach and cheerleader. Lisa, you've been an absolute earth angel in my life.
Clients that are willing to out-create me. I'm so proud of all of you and honored to be part of your journey. More tears as I consider what each one of them have accomplished and overcome.
The tools of Access Consciousness®. Wow. Wow. Wow. I've created so much change in my life using these tools. Thank you to Cory Michelle for talking with me a few years ago when I was searching for my magic.
What would life BE like if I chose me? And you chose you?
Let's find out. Happy New Year everyone!
In this video I refer to Dr. Dain Deer, and it's Dr. Dain Heer, co-founder of Access Consciousness. 🙂