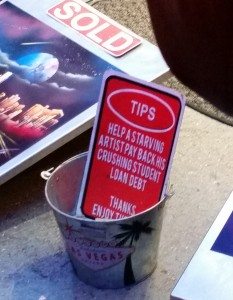 I was in Las Vegas a few weeks ago celebrating my friend's 40th birthday and while exploring Freemont Street, I saw this sign in front of a street artist's booth. My heart sank.
I was drawn in by his art. But rather than staying intrigued with it, this sign turned me off completely.
Why? Because when people try to draw me in through pity instead of giving value, I don't stay engaged.
While I appreciate people's ability to make a bold ask, I don't buy things out of pity or being guilted into it.
It's why I don't donate to causes that are focused on victimizing people, but I support causes that are about creating solutions to create a better world. This is the power of messaging.
We may not have a sign like this on our website or in our place of business, but energetically this is what you are communicating every time you think "I hope they buy because I need to pay my car payment."
What we're essentially doing is asking the next buying client to save us from our financial situation. It's not their responsibility to save us from our past decisions.
That kind of pressure squelches inspiration and inhibits your prospect's ability to see the true value you bring to the table.
What do you when you are feeling the financial pressure, but don't want to bring that into your sales and marketing?
Check out the video below:

---
Take the Free Soul Message™ Archetype Quiz at AngellaJohnson.com.
Registration is open for Ignite 2016.