You're ready to work with me if you are:
A conscious entrepreneur who is also engaged in personal and spiritual development.
Accountable. You know you create your results and you are willing to do the inner and outer work.
Driven. You are committed to your business; there is no plan B.
Ready to make more money doing your life's purpose.
Willing to embrace ease and magic and let go of struggle.
Expand what you think is possible.
Private & Group Coaching
Enrollment into any group or private coaching is by application only. Apply for a strategy session here.

This is a blend of business training + hands-on implementation. Most self-paced programs only provide recorded trainings and I think we can agree that we don't want one more program that just gives information – it's the implementation that makes the difference.
The Intuitive Marketing Lab teaches you how to integrate your Marketing Archetype™, deepen your intuition, and communicate clearly with your business, products, and programs so you know how to share your services and make consistent money.
You can explore the program here. 
$222/mo USD (Canada residents take 20% off, Australia/New Zealand take 25% off)
12-month Group Coaching
Includes: 
The Intuitive Marketing Lab (includes monthly virtual work day + virtual business training)
Monthly live Actualizing call (60-90 minutes)
This amplifies the energy of what you are creating; I was in a mastermind and this is the ONLY thing we did on a regular basis and what was created was incredible)
Monthly live clearing call (60-90 minutes)
Two in-person 2 1/2 day retreats (choose from two US locations and one Australian location)
Two virtual 1-day retreats
Investment: $7,500
(Payments: $1,500 deposit + 11 monthly payments of $545.45 OR Pay-in-full of $6,500)
Optional add-ons:
VIP Day
Private coaching with Angella or lead coach
Private Coaching
This is 6- or 12-month increments and is customized depending on your needs. Available options can include:
1 or 2 private 45-minute coaching sessions per month
VIP Day (4 hours virtual or in person in Utah, USA
Unlimited Voxer access and limited email access
Copywriting and editing support
Investment starts t $10,000 USD and varies depending on the options you select. (10% discount applies for Canadian, Australian, and New Zealand residents)
Online Products for SOULpreneurs
Get 24/7 instant access.
This 12-month program provides:
+ a live training each month with time for Q & A
+ money interviews from SOULpreneurs who have turned their money around
+ a private FB group for bonus trainings and a place to ask questions and celebrate your successes
$197 for the year (10% off for Canadian, New Zealand, and Australian residents)
When you pay in full, you receive full access to the Money and Marketing eCourse ($97 value)
Payment option: 3 payments of $67 USD (10% off for Canadian, New Zealand, and Australian residents)
Discovering your Marketing Archetype™ will help you see what about your marketing is working and what isn't, but more importantly how to integrate your archetype in your business.
The result?
Your business works. You attract clients with more ease. You lose the slimy feeling when you share your products and services. '
Included is an audio and video training for each Marketing Archetype™ + a 20-page eguide.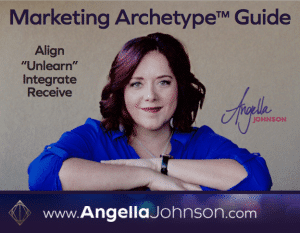 Manifesting in High Heels
I've joined forces with a fabulous group of women and we revealed the secret rituals to manifesting with more power, ease and clarity. Buy the book on Amazon and watch out for my chapter: Dress for Success in Yoga Pants and a T-Shirt (without a bra).

Soul Vision eJournal
Write yourself into your own destiny with this powerful manifesting tool. I take the principles I've used for years to create the life and business I desire.