Here is where I share my heart, my values, and what I'm damn good at. If you'd like to inquire about me speaking at your event or podcast, click here.
What do I do?
You can call me a business mentor, a marketing coach, a wordsmith… while that's true, what I really am is a:
Business Alchemist: I'm the "Harry Potter" for business (and I'm sure that could violate some copyright law so that's my official disclaimer).
Truth Guide: I lead you to your truth and as your guide, I give you everything that you are willing to receive. Ultimately, it's your choice and creation and I've got your back.
Collaborator: I bring my best stuff. You bring your best stuff. Together, we create magic.
Courage Ignitor: I know that anything is possible and we create change. I guide you to say yes to your big vision, trust yourself, and live without apology.
I'm the blend of energy + strategy. I'm not afraid to kick your butt and I deeply care about you and your business.
I only take on a handful of private clients a year because my model isn't about herding loads of people into a generic program. My group programs are focused on solutions that are tailored to each person. My trainings and products are designed to liberate your truth and give you the tools to build your business your way. Discover how you can work with me here.
My commitment is to deeply serve people so they transform and live their vision, not just talk about it.
My core values are freedom, accountability, creativity, and equality.
My vision is about a community of brilliant people connected to each other. We create more together than what we can accomplish by ourselves – we lift as we climb.
Client Story: I'm now Cinderella...
Coaching with you is like being Cinderella. For many years I played the role of the step sister, always trying, struggling, and painfully attempting to fit me and my business into this shoe only to have discouragement, disappointment, and unworthiness be the result. Now I get to be Cinderella. The shoe just fits. It flows with grace and ease and while there is plenty of blood, sweat, and tears that have gone into it -as it was with Cinderella, it's nice to feel and know that my business and message just fit and flow.
~Lori – Author, Health Mentor, and Expert on Healing Auto-Immune Dis-ease
Client Story: My Entire Life Changed...
In her events, her coaching, and especially her way of BEing that gently, always powerfully, and sometimes kick-you-in-the-buttcheek-feedback-potential-surpassing-way that takes your breath away…and gives you results.
She has been a friend of mine for several years now, but when I surrendered into her mentorship, my entire life changed. I was afraid to be vulnerable, and she supported me into the shift that created great power. I was afraid to be visible, and now I'm teaching around the world. I was afraid to acknowledge or utilize my feminine and spiritual self in the bigger business world, and now that is a great power I focus on every day. I'm exquisitely grateful for her empowerment–to the point it brings me to tears.
Angella, thank you for your gifts and the power of sharing your knowledge to women and men who are ready to take on the world without apology, from divine essence, from strategic badassery, inner intelligence, and fantastic, effective tools!
~Bridget – NY Times Best-Selling Author, Speaker, Writing Coach
It began in 2008.
I hosted a summer solstice retreat where I guided people to write their intentions to declare what they desired in life.
It was then that I learned the power of vague intention.
My scroll said: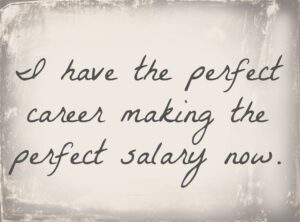 The next day I was laid off. Well damn, I should have been more specific right?
The really crazy part:
The month prior to getting laid off, I sat my boss Todd down and told him that I needed something more out of my career. We created a plan to phase me out of my marketing position so I had time to find my next "thing" and I could train my replacement.
During that conversation, Todd smugly asked me what I wanted to do with my life.
Before I could consciously think about it,  these words came out of my mouth effortlessly:
"I want to empower women starting with myself and I want to work with women and kids in Africa."
Little did I know that I was speaking into existence part of my soul vision and within five years those words would be my reality.
I was always dabbling in part-time hobbies that occasionally made me money, but this felt like I was an official entrepreneur and I was excited.
The Not-So-Sexy Path to Six Figures
After spending almost two years broke and stuck, let's fast forward to 2010 when I hosted my first big live event "Ignite Your Spark" with over 200 attendees.
My vision was happening. Lives were transformed. But at the end of the day, I lost $40,000.
That is how I learned the essential task of marketing myself.
After this epic failure, I knew something had to change and "my way" was getting in my own way.
I had no money. My small retirement funds were already drained (along with my husband's). I had no credit cards, inheritance, trust fund or sugar daddy. And my credit was destroyed so getting a loan or another credit card was impossible.
So I did what any crazy person would do, I hired a mentor. I was $70,000 in debt ($40k for my event, plus student loans and credit cards, and this did NOT include our cars or mortgage).
I remember signing that coaching contract and asking for a week to come up with the first month's payment. I was not going to go back to my old life of having a dream but making no money, so I made it happen.
From that point, I created six-figures in revenue within ten months.
Coming out of the spiritual closet. 
In late 2012, I was ALMOST to $200k in revenue and then I realized I was depressed and hated most things about my business. I also realized that the six-figure dream was bull shit. A six-figure business still meant that some months, I struggled to pay my bills.
I bought into the formulas, I hustled, and despite the money coming in, I didn't pay myself and no money was coming into my household. (This wasn't a great thing for my marriage.)
During this hustle, I gained 50 pounds and my health declined. What happened to the woman who loved to work out? I invested over $200,000 in coaches, programs, and events to try and figure out what was wrong with me.
I had built someone else's business model. I had abandoned my intuition and soul purpose.
So practically overnight, I blew up my business and fired my coaches and most of my clients. I then rebuilt my business to six figures again. But this time I did it my way: with my soul purpose fully integrated and I came out of the spiritual closet. I was happy again and money started becoming my friend.
Magic and Marketing Archetypes™
In late 2014 I kept asking the universe to show me a way to create even more ease and to really claim my magic. I knew there had to be a way to release fixed beliefs, upper limits, and old patterns without having to process things for another decade. I discovered the world of Access Consciousness ® and it changed my life.
Then I discovered Beth Grant's Alignment Archetype Grid ® and my gift with marketing became even more magical.
I know use both of these bodies of work in my business and it's transformational.
My life now.
I have an international business. I have freedom – I take off weeks at a time, along with most Mondays. I love the people I work with.
I don't "make things happen" anymore. I let go of the hustle and work harder mentality that was crushing my soul.
I create magic with ease and I teach others to and BE the magic they are.